The Infrastructure Show's Episodes
With Host Professor Joseph Schofer of Northwestern University.
Click on the link below the description to begin streaming the podcast. To subscribe to The Infrastructure Show podcasts or find in iTunes, see the clicks at the top of the page.

Photo of Independence Bridge courtesy of the City of Bay City
(click for larger image)
Bay City, MI Chooses Private Solution for Financing Bridge Replacement
Posted May 6, 2020, Length: 16:58
When aging infrastructure needs repair or replacement, a primary challenge is finding the money. Bay City, Michigan, northwest of Detroit, faced this problem with two key bridges, and the community ultimately decided to sell the bridges to a private consortium that will pay for improvements and collect tolls to finance the projects.
In this podcast, we learn how Bay City is addressing its bridge issues from the town's City Manager, Dana Muscott.
The Infrastructure Show is sponsored by Northwestern University.
Descriptions of photos at top of page, from left to right: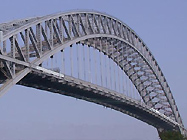 Bayonne Bridge, from Bayonne, NJ to Staten Island, NY;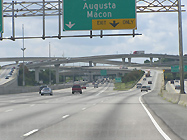 the Tom Moreland Interchange in Atlanta, GA;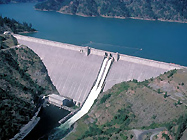 Dworshak Dam, in Clearwater County, ID;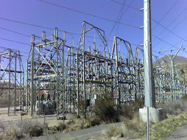 a transmission substation in Orem, UT.
All photos courtesy of Wikipedia.