The Infrastructure Show's Episodes
With Host Professor Joseph Schofer of Northwestern University.
Click on the link below the description to begin streaming the podcast. To subscribe to The Infrastructure Show podcasts or find in iTunes, see the clicks at the top of the page.

Photo credit: Central Susquehanna Valley Thruway bridge, photo courtesy of Pennsylvania DOT
(click for larger image)
Funding for Surface Transportation Infrastructure – Success in Pennsylvania
Posted April 24, 2017, Length: 15:42
Securing the money to maintain public infrastructure continues to be a top priority in the United States. The surface transportation system, roads, bridges, and public transportation facilities, need ongoing investment to assure that they meet economic and social needs. In January, 2017, the State of Pennsylvania increased its gas tax to become the highest in the nation, working under 2013 legislation that restructured the state's approach to transportation funding. Since then Pennsylvania has made considerable progress renewing and improving its transportation infrastructure. In this interview we talk with Roger Cohen, Policy Director for the Pennsylvania Department of Transportation, to learn about his state's strategy and progress.
The Infrastructure Show is sponsored by Northwestern University.
Descriptions of photos at top of page, from left to right: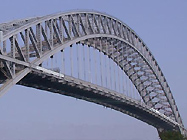 Bayonne Bridge, from Bayonne, NJ to Staten Island, NY;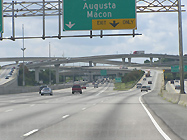 the Tom Moreland Interchange in Atlanta, GA;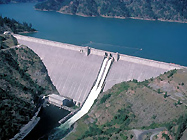 Dworshak Dam, in Clearwater County, ID;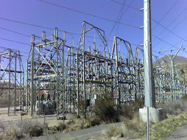 a transmission substation in Orem, UT.
All photos courtesy of Wikipedia.