About The Infrastructure Show
The Infrastructure Show consists of monthly podcasts in which some of the nation's top infrastructure experts discuss with host Professor Joseph Schofer of Northwestern University (see Hosts page) the condition of our infrastructure today, and what can be done about it. While many subjects are addressed, including repairs, upgrades and new construction, there is an emphasis on the topics of preventive and predictive maintenance, as well as structural health monitoring.
To address the deteriorating condition of America's infrastructure is a challenge not only in engineering, but also in management, finance, and planning. At the most fundamental level, it presents a cultural challenge related to priorities placed on service effectiveness, efficiency and safety. It's an incredibly complex task, to be sure, but not unlike the one faced and met by businesses. America's best run manufacturing businesses share a common culture in the following regard: their management insists on budgeting sufficient monies for proper equipment maintenance. Successful managers have gone beyond reactive maintenance and investment strategies (i.e. running to failure), focusing instead on preventive and predictive maintenance programs, with impressive results. Much of America's infrastructure, unfortunately, is still being operated in the outdated run-to-failure mode. To turn this around, and operate in a more efficient manner, is the challenge today. Fortunately, our country's management – the current administration – is facing the infrastructure challenge squarely, and giving it top priority. But there's a huge job ahead. The purpose of this podcast show is to help in bringing facts to the general public.
For background on the condition of the nation's infrastructure, the link below, to the American Society of Civil Engineers' 2017 Infrastructure Report Card, is recommended. It ranks roads, bridges, dams, inland waterways, rail, aviation, drinking water, energy, solid waste, and six more categories.
http://www.infrastructurereportcard.org/
The Infrastructure Show is sponsored by Northwestern University.
Descriptions of photos at top of page, from left to right: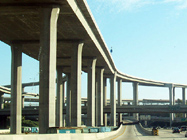 Stack interchange between Interstates 105 and 110 in Los Angeles;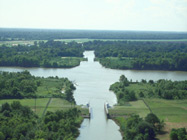 the intersection of Bayou Teche and the Wax Lake outlet of the Atchafalaya River in St. Mary's Parish, LA;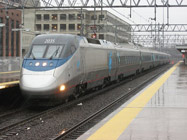 Amtrak Acela high-speed train in New Haven, CT;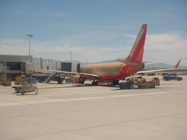 Tucson, AZ International Airport.
All photos courtesy of Wikipedia.