The Infrastructure Show's Links of Interest
Links
The following are links to on-line sources of information and news on infrastructure topics.
Blogs/News:
The Transportist
Professor David Levinson's blog: https://transportist.org/
Access Across New Zealand - Recently published:
On MOOCs and moats at the modern university - The travel barriers presented by the  coronavirus present academic administrators at schools that have come to depend on large international enrolments an opportunity. The...
Talking Headways Podcast: Complicated Measures and Public Policy - I was interviewed by Jeff Wood while at TRB for the Talking Headways Podcast. It is now available for download. Talking Headways Podcast: Complicated Measures and...
The City Fix
City Leaders Must Prioritize Climate Resilience of Vulnerable Communities - As thousands of urban leaders gather in Abu Dhabi for the World Urban Forum, the impacts of the climate crisis on cities have become more...
Walking the Talk: What Can We Learn from Germany's New Pedestrian Policy Framework? - Walking, as simple as it is, is key to many current urban issues. As car ownership grows, people are walking less and becoming less physically...
How and Where to Plant 60 Billion Trees in the US - The Trillion Trees Initiative has garnered support from business and political leaders around the world. U.S. President Trump highlighted the initiative as the cornerstone of his plan...
Podcast Topic Information: (in order of related podcast date)
The following links contain information related to the podcast interviews on this website.
MWRD's Tunnel and Reservoir Plan
https://mwrd.org/tunnel-and-reservoir-plan

Public Safety Hazards
https://damsafety.org/public-safety-hazards

Calpine - The Geysers
Modeling Residual Flood Risk Behind Levees
https://www.sciencedirect.com/science/article/pii/S146290111630003X
N. Pinter, F. Huthoff, Jennifer Dierauer, Jonahan Remo, and Amanda Damptz, "Modeling residual flood risk behind levees, Upper Mississippi River, USA," Environmental Science and Policy, Vol. 58, Spring 2016, pp. 131-140.
Los Angeles Metro Project Tracker
https://www.metro.net/interactives/datatables/project/

Earthquake Resilience for San Francisco's Tall Buildings
https://www.google.com/url?sa=t&rct=j&q=&esrc=s&source=web&cd=1&ved=2ahUKEwjP546g4v_gAhXEx4MKHSebAdQQFjAAegQIChAC&url=http%3A%2F%2Fonesanfrancisco.org%2Fsites%2Fdefault%2Ffiles%2Finline-files%2FATC-119-1_SF_TallBuildingsStudy_FINAL.pdf&usg=AOvVaw2oa3bSNXUkjx3892fbgxYs

Delaware Strategic Highway Safety Plan
https://www.deldot.gov/Programs/DSHSP/index.shtml

San Francisco County Transportation Authority
Federal Highway Administration video on bridge inspection standards
https://www.fhwa.dot.gov/federal-aidessentials/catmod.cfm?id=87

Bus Rapid Transit Works: Countering the Myths, by S.L. Zimmerman and H.S. Levinson
http://onlinepubs.trb.org/Onlinepubs/trnews/trnews303.pdf
pages 23-27
Regional Plan Association, "How Sea Level Rise Threatens the Tri State Region."
http://library.rpa.org/pdf/RPA-Under-Water-How-Sea-Level-Rise-Threatens-the-Tri-State-Region.pdf

High Rise Fires and the Choice of Building Materials
http://www.nfpa.org/exteriorwalls

DC Water's Environmental Impact Bonds
https://www.dcwater.com/sites/default/files/project/documents/2017%20Fall%20PR-A%20Factsheet.pdf

Elevators and building design
http://www.press.uillinois.edu/books/catalog/45fqq6ze9780252037542.html

New York City Water Supply System
http://www.bonelevine.net/water-works/

CREATE
Pennsylvania transportation funding
http://www.penndot.gov/about-us/Pages/Act-89-Funding-Plan.aspx

ASCE Report Card
https://www.infrastructurereportcard.org/

Nuisance Flooding
http://tidesandcurrents.noaa.gov/publications/NOAA_Technical_Report_NOS_COOPS_073.pdf

Savannah Harbor Expansion Project
Sea level rise
http://www.georgetownclimate.org/adaptation-tool-kit-sea-level-rise-and-coastal-land-use

St. Croix Crossing Project
http://www.dot.state.mn.us/stcroixcrossing/

Second Avenue Subway
http://www.mta.info/capconstr/sas/

The Eagle P3 East Rail Line
http://www.rtd-fastracks.com/main_189

Golden Gate Bridge 75th Anniversary
http://www.goldengatebridge75.org/

Alternative Fuels
http://cta.ornl.gov/data/index.shtml

Challenging Inspections
Transportation Data
http://dc.streetsblog.org/2012/03/20/no-data-big-problem/

Panama Canal (I)
http://theinfrastructureshow.com/images/57.jpg
(Photo)
Panama Canal (II)
http://theinfrastructureshow.com/images/58.jpg
(Photo)
The Dulles Airport Metrorail Project
http://theinfrastructureshow.com/images/53.jpg

Structural Failures
http://www.amazon.com/Essential-Engineer-Science-Global-Problems/dp/0307272451/ref=pd_rhf_shvl_2

New Materials
Inland waterways – I
http://www.ittsresearch.org/adobe/ITTS-presentation-WCI-inland-navigation.pdf

Inland waterways – II
http://www.ittsresearch.org/adobe/ITTS-TRB-preformance-measures-conference-challanges-of-applying-freight-preformance-measures.pdf

Recycled Plastic Bridges
http://theinfrastructureshow.com/audio/downloads/Worlds-First-Thermoplastic-Bridge.pdf

Power Infrastructure
http://mydocs.epri.com/docs/CorporateDocuments/SectorPages/PDU/1017894TransmissionEfficiencyWorkshop11-09.pdf

91 Express Lanes
http://www.octa.net/uploadedfiles/Files/pdf/cmp05.pdf

I-580 Ramp
http://www.dot.ca.gov/dist4/mazedamage/
(scroll down to "Project Data")
New I-35W Bridge
http://www.figgbridge.com/new_I-35W_bridge_book.html

The Infrastructure Show is sponsored by Northwestern University.
Descriptions of photos at top of page, from left to right: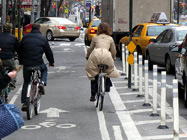 bicycle riders in a bike lane in the Chelsea District of New York, NY;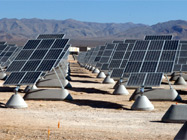 Nellis Solar Power Plant, Clark County, NV;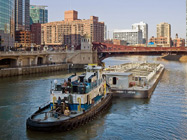 towboat and barge on the Chicago River in Chicago, IL;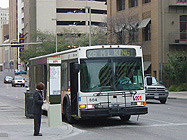 VIA Metropolitan Transport bus in San Antonio, TX.
All photos courtesy of Wikipedia.