The Infrastructure Show's Links of Interest
Links
The following are links to on-line sources of information and news on infrastructure topics.
Blogs/News:
The Transportist
Professor David Levinson's blog: https://transportist.org/
Polycentricity Podcast - Following up on our article in The Conversation on Polycentricity, I was interviewed on 2SER (107.3) radio (June 13, 7:30 pm) about polycentrism. Here...
Some comments on Hyperloop - I have some comments on the so-called Hyperloop on p. 10 of the current issue of Modus.  There are comments by others as well.   Hyperloop is...
Friends of Erskineville: Conversation with David Levinson - I am honoured to be invited to present to the Friends of Erskineville (Facebook signup) group on Tuesday, 11 June 2019 from 19:30-20:30, at the Erskineville Town...
The City Fix
Seoul, Guangzhou and New York City Top List of Cities With Largest Carbon Footprints. How Does Your City Rank? - The largest and highest-consuming cities in the world have carbon footprints equal to those of small countries. This is the finding of a study surveying the carbon...
Vida Segura: How São Paulo Plans to Cut Traffic Fatalities by Half in 10 Years - With a population of 12.2 million – eighth largest in the world – São Paulo faces a daunting task in making its streets safe for...
Delhi Announces Plan to Make All Public Transport Free for Women. Will It Work? - On June 10, Arvind Kejriwal, the chief minister of Delhi, announced a new proposal to make public transport free for women. Once cleared, the move...
Podcast Topic Information: (in order of related podcast date)
The following links contain information related to the podcast interviews on this website.
Los Angeles Metro Project Tracker
https://www.metro.net/interactives/datatables/project/

Earthquake Resilience for San Francisco's Tall Buildings
https://www.google.com/url?sa=t&rct=j&q=&esrc=s&source=web&cd=1&ved=2ahUKEwjP546g4v_gAhXEx4MKHSebAdQQFjAAegQIChAC&url=http%3A%2F%2Fonesanfrancisco.org%2Fsites%2Fdefault%2Ffiles%2Finline-files%2FATC-119-1_SF_TallBuildingsStudy_FINAL.pdf&usg=AOvVaw2oa3bSNXUkjx3892fbgxYs

Delaware Strategic Highway Safety Plan
https://www.deldot.gov/Programs/DSHSP/index.shtml

San Francisco County Transportation Authority
Federal Highway Administration video on bridge inspection standards
https://www.fhwa.dot.gov/federal-aidessentials/catmod.cfm?id=87

Bus Rapid Transit Works: Countering the Myths, by S.L. Zimmerman and H.S. Levinson
http://onlinepubs.trb.org/Onlinepubs/trnews/trnews303.pdf
pages 23-27
Regional Plan Association, "How Sea Level Rise Threatens the Tri State Region."
http://library.rpa.org/pdf/RPA-Under-Water-How-Sea-Level-Rise-Threatens-the-Tri-State-Region.pdf

High Rise Fires and the Choice of Building Materials
http://www.nfpa.org/exteriorwalls

DC Water's Environmental Impact Bonds
https://www.dcwater.com/sites/default/files/project/documents/2017%20Fall%20PR-A%20Factsheet.pdf

Elevators and building design
http://www.press.uillinois.edu/books/catalog/45fqq6ze9780252037542.html

New York City Water Supply System
http://www.bonelevine.net/water-works/

CREATE
Pennsylvania transportation funding
http://www.penndot.gov/about-us/Pages/Act-89-Funding-Plan.aspx

ASCE Report Card
https://www.infrastructurereportcard.org/

Nuisance Flooding
http://tidesandcurrents.noaa.gov/publications/NOAA_Technical_Report_NOS_COOPS_073.pdf

Savannah Harbor Expansion Project
Sea level rise
http://www.georgetownclimate.org/adaptation-tool-kit-sea-level-rise-and-coastal-land-use

St. Croix Crossing Project
http://www.dot.state.mn.us/stcroixcrossing/

Second Avenue Subway
http://www.mta.info/capconstr/sas/

The Eagle P3 East Rail Line
http://www.rtd-fastracks.com/main_189

Golden Gate Bridge 75th Anniversary
http://www.goldengatebridge75.org/

Alternative Fuels
http://cta.ornl.gov/data/index.shtml

Challenging Inspections
Transportation Data
http://dc.streetsblog.org/2012/03/20/no-data-big-problem/

Panama Canal (I)
http://theinfrastructureshow.com/images/57.jpg
(Photo)
Panama Canal (II)
http://theinfrastructureshow.com/images/58.jpg
(Photo)
The Dulles Airport Metrorail Project
http://theinfrastructureshow.com/images/53.jpg

Structural Failures
http://www.amazon.com/Essential-Engineer-Science-Global-Problems/dp/0307272451/ref=pd_rhf_shvl_2

New Materials
Inland waterways – I
http://www.ittsresearch.org/adobe/ITTS-presentation-WCI-inland-navigation.pdf

Inland waterways – II
http://www.ittsresearch.org/adobe/ITTS-TRB-preformance-measures-conference-challanges-of-applying-freight-preformance-measures.pdf

Recycled Plastic Bridges
http://theinfrastructureshow.com/audio/downloads/Worlds-First-Thermoplastic-Bridge.pdf

Power Infrastructure
http://mydocs.epri.com/docs/CorporateDocuments/SectorPages/PDU/1017894TransmissionEfficiencyWorkshop11-09.pdf

91 Express Lanes
http://www.octa.net/uploadedfiles/Files/pdf/cmp05.pdf

I-580 Ramp
http://www.dot.ca.gov/dist4/mazedamage/
(scroll down to "Project Data")
New I-35W Bridge
http://www.figgbridge.com/new_I-35W_bridge_book.html

The Infrastructure Show is sponsored by Northwestern University.
Descriptions of photos at top of page, from left to right: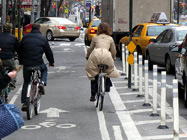 bicycle riders in a bike lane in the Chelsea District of New York, NY;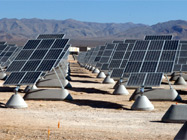 Nellis Solar Power Plant, Clark County, NV;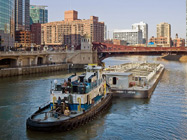 towboat and barge on the Chicago River in Chicago, IL;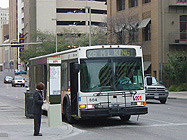 VIA Metropolitan Transport bus in San Antonio, TX.
All photos courtesy of Wikipedia.