The Infrastructure Show's Links of Interest
Links
The following are links to on-line sources of information and news on infrastructure topics.
Blogs/News:
The Transportist
Professor David Levinson's blog: https://transportist.org/
Substack - Most of my new writing will be over on Substack … So, if you don't already, follow me over there, as this blog becomes...
#NearerInTime - A collection from my #NearerInTime hashtag on #TwitterRIP. The ideas behind #NearerInTime are several: You are old if you remember these things. These things, which...
A bifurcation of the peak: New patterns of traffic peaking during the COVID-19 era - Recently published: Gao, Yang and Levinson, D. (2022) A bifurcation of the peak: New patterns of traffic peaking during the COVID-19 era. Transportation. [doi] This...
The City Fix
Many Underserved Communities Face EV 'Charging Deserts.' These 5 Strategies Can Help. - The rapid acceleration of electric vehicle adoption in the United States comes with the risk of leaving historically disadvantaged communities behind if charging infrastructure isn't...
Introducing UrbanShift City Academy: A New Resource and Learning Platform to Empower Sustainable Urban Development - If you're a regular reader of TheCityFix, you're no stranger to the vital role that cities play in shaping the future of our planet. From...
Exploring City and Institutional Transformation Through Catalytic Projects in Mexico City - Achieving transformation in today's cities requires the active and ongoing participation of many stakeholders, from the public sector, to civil society, private companies and academia....
Streetsblog USA
Podcast Topic Information: (in order of related podcast date)
The following links contain information related to the podcast interviews on this website.
Building More Cost-effective Rail Transit
https://projectdelivery.enotrans.org/

Integrated Delivery Schedule - A South Florida Ecosystem Restoration Program
https://static1.squarespace.com/static/5d5179e7e42ca1000117872f/t/5f36b4cf5813890c0e2c06f1/1597420752314/7a_IDS_PLACEMAT.pdf

VDOT SGR Bridge webpage
https://www.virginiadot.org/projects/state-of-good-repair/bridges.asp

Virginia State of the Structures and Bridges Reports
https://www.virginiadot.org/info/bridges/state-of-structures-and-bridges.asp

Virginia DOT Prioritization formula
https://www.virginiadot.org/business/resources/bridge/SGR_PrioritizationFormula_Description_08-31-2018.pdf

The Golden Spike Tower
Federal Highway Administration Center for Innovative Finance Support
https://www.fhwa.dot.gov/ipd/project_profiles/ny_goethals.aspx

How to find out if you have lead pipes
https://apps.npr.org/find-lead-pipes-in-your-home/en/#intro

2021 ASCE Infrastructure Report Card
https://infrastructurereportcard.org/

Iowa Interstate Railroad
Iowa Interstate Railroad Video
https://www.youtube.com/watch?v=0b2xrpbifCU

American Shortline and Regional Railroad Association
SubCom Undersea Fiber Optic Cable
https://www.subcom.com/#services

Washington, DC Bridge Park
https://bbardc.org/project/11th-street-bridge-park/

New Hampton Roads Bridge-Tunnel
MWRD's Tunnel and Reservoir Plan
https://mwrd.org/tunnel-and-reservoir-plan

Public Safety Hazards
https://damsafety.org/public-safety-hazards

Calpine - The Geysers
Modeling Residual Flood Risk Behind Levees
https://www.sciencedirect.com/science/article/pii/S146290111630003X
N. Pinter, F. Huthoff, Jennifer Dierauer, Jonahan Remo, and Amanda Damptz, "Modeling residual flood risk behind levees, Upper Mississippi River, USA," Environmental Science and Policy, Vol. 58, Spring 2016, pp. 131-140.
Los Angeles Metro Project Tracker
https://www.metro.net/interactives/datatables/project/

Earthquake Resilience for San Francisco's Tall Buildings
https://www.google.com/url?sa=t&rct=j&q=&esrc=s&source=web&cd=1&ved=2ahUKEwjP546g4v_gAhXEx4MKHSebAdQQFjAAegQIChAC&url=http%3A%2F%2Fonesanfrancisco.org%2Fsites%2Fdefault%2Ffiles%2Finline-files%2FATC-119-1_SF_TallBuildingsStudy_FINAL.pdf&usg=AOvVaw2oa3bSNXUkjx3892fbgxYs

Delaware Strategic Highway Safety Plan
https://www.deldot.gov/Programs/DSHSP/index.shtml

San Francisco County Transportation Authority
Federal Highway Administration video on bridge inspection standards
https://www.fhwa.dot.gov/federal-aidessentials/catmod.cfm?id=87

Bus Rapid Transit Works: Countering the Myths, by S.L. Zimmerman and H.S. Levinson
http://onlinepubs.trb.org/Onlinepubs/trnews/trnews303.pdf
pages 23-27
Regional Plan Association, "How Sea Level Rise Threatens the Tri State Region."
http://library.rpa.org/pdf/RPA-Under-Water-How-Sea-Level-Rise-Threatens-the-Tri-State-Region.pdf

High Rise Fires and the Choice of Building Materials
http://www.nfpa.org/exteriorwalls

DC Water's Environmental Impact Bonds
https://www.dcwater.com/sites/default/files/project/documents/2017%20Fall%20PR-A%20Factsheet.pdf

Elevators and building design
http://www.press.uillinois.edu/books/catalog/45fqq6ze9780252037542.html

New York City Water Supply System
http://www.bonelevine.net/water-works/

CREATE
Pennsylvania transportation funding
http://www.penndot.gov/about-us/Pages/Act-89-Funding-Plan.aspx

ASCE Report Card
https://www.infrastructurereportcard.org/

Nuisance Flooding
http://tidesandcurrents.noaa.gov/publications/NOAA_Technical_Report_NOS_COOPS_073.pdf

Savannah Harbor Expansion Project
Sea level rise
http://www.georgetownclimate.org/adaptation-tool-kit-sea-level-rise-and-coastal-land-use

St. Croix Crossing Project
http://www.dot.state.mn.us/stcroixcrossing/

Second Avenue Subway
http://www.mta.info/capconstr/sas/

The Eagle P3 East Rail Line
http://www.rtd-fastracks.com/main_189

Golden Gate Bridge 75th Anniversary
http://www.goldengatebridge75.org/

Alternative Fuels
http://cta.ornl.gov/data/index.shtml

Challenging Inspections
Transportation Data
http://dc.streetsblog.org/2012/03/20/no-data-big-problem/

Panama Canal (I)
http://theinfrastructureshow.com/images/57.jpg
(Photo)
Panama Canal (II)
http://theinfrastructureshow.com/images/58.jpg
(Photo)
The Dulles Airport Metrorail Project
http://theinfrastructureshow.com/images/53.jpg

Structural Failures
http://www.amazon.com/Essential-Engineer-Science-Global-Problems/dp/0307272451/ref=pd_rhf_shvl_2

New Materials
Inland waterways – I
http://www.ittsresearch.org/adobe/ITTS-presentation-WCI-inland-navigation.pdf

Inland waterways – II
http://www.ittsresearch.org/adobe/ITTS-TRB-preformance-measures-conference-challanges-of-applying-freight-preformance-measures.pdf

Recycled Plastic Bridges
http://theinfrastructureshow.com/audio/downloads/Worlds-First-Thermoplastic-Bridge.pdf

Power Infrastructure
http://mydocs.epri.com/docs/CorporateDocuments/SectorPages/PDU/1017894TransmissionEfficiencyWorkshop11-09.pdf

91 Express Lanes
http://www.octa.net/uploadedfiles/Files/pdf/cmp05.pdf

I-580 Ramp
http://www.dot.ca.gov/dist4/mazedamage/
(scroll down to "Project Data")
New I-35W Bridge
http://www.figgbridge.com/new_I-35W_bridge_book.html

The Infrastructure Show is sponsored by Northwestern University.
Descriptions of photos at top of page, from left to right: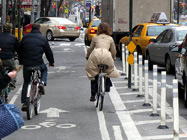 bicycle riders in a bike lane in the Chelsea District of New York, NY;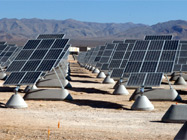 Nellis Solar Power Plant, Clark County, NV;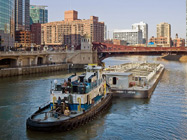 towboat and barge on the Chicago River in Chicago, IL;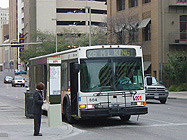 VIA Metropolitan Transport bus in San Antonio, TX.
All photos courtesy of Wikipedia.