The Infrastructure Show's Links of Interest
Links
The following are links to on-line sources of information and news on infrastructure topics. See also the links at the bottom of the Podcasts page on this site, which are specific to the interview topics.
Blogs/News:
The Transportationist
The forgotten station |Honi Soit - The transportist gets a shout out in The forgotten station by Simon Coleman in Honi Soit, the University of Sydney newspaper. The article concerns...
9 Barriers to Walking in Sydney - I am a pedestrian in Sydney, living in a car-less household, so I have had a few months experience in the pedestrian environment. As nice...
Opening: Chair in Public Transport - CHAIR IN PUBLIC TRANSPORT INSTITUTE OF TRANSPORT AND LOGISTICS STUDIES THE UNIVERSITY OF SYDNEY BUSINESS SCHOOL David Hensher writes: I am in the early search...
The City Fix
New York's Plan to Save Subway Seen as a Test for New Ways to Support Transit - New York Subway. Photo by Adrian Scottow / Flickr For the first time in over...
BRTData Enhances Indicators to Improve Accuracy and Comparisons - Bogotá, Colombia's BRT, TransMilenio. Photo by Claudio Olivares Medina / Flickr Since 2012, BRTdata.org has provided...
Can Reef and Beach Insurance Improve Coastal Resilience? - Aerial photography of Punta Gorda, on Florida's Gulf of Mexico coast. Photo by Carlton Ward When you...
Reports: (alphabetized by source)
America 2050 The Need to Invest in America's Infrastructure
http://www.america2050.org/pdf/AM2050Infra08sm.pdf
An Infrastructure Vision for 21st Century America is a report by America 2050 that highlights the need to develop a bold and compelling vision for investing in the nation's aging water, energy, and transportation infrastructure in a way that will help America meet the key challenges of the 21st century. The report makes the case that the federal government should provide leadership in aligning its energy, transportation and water infrastructure policies to support environmentally sustainable development, efficient and reliable transportation systems, and sustained, robust economic growth. (November, 2008, 24 pages)
American Society of Civil Engineers (
ASCE

) Rating the Condition of America's Infrastructure http://www.infrastructurereportcard.org/wp-content/uploads/2013ReportCardforAmericasInfrastructure.pdf

The 2013 Report Card on America's Infrastructure is the most current assessment of the nation's infrastructure by the ASCE, which creates a report approximately every 5 years. It grades the condition of our bridges, dams, roads, rail systems, inland waterways, and 10 more systems. (March 2013, 119 pages)
Note: summaries of the Report Card's findings also are viewable at: http://www.infrastructurereportcard.org/
Also, this topic was addressed in the first podcast of the series; see our Podcast page.
Brookings Institute Banking on Infrastructure: Enhancing State Revolving Funds for Transportation
http://www.brookings.edu/research/papers/2012/09/12-state-infrastructure-investment-puentes
Banking on Infrastructure: Enhancing State Revolving Funds for Transportation is a report by the Brookings Institute's Project on State and Metropolitan Innovation. It examines loans and loan guarantees from state infrastructure banks (SIBs), which in recent decades (since established in the 1990s) have provided billions in financing for more than 1,000 projects — mostly focused on the 100 largest metropolitan areas. However, this activity is highly concentrated in just a few states, as many SIBs are underutilized or inactive. This research shows that SIBs can be valuable tools for delivering infrastructure projects and can generate more investment per dollar than traditional federal and state grant programs. (September 2012, 20 pages)
Metropolitan Transportation Authority (
MTA

) Mass Transit and Environmental Sustainability http://web.mta.info/sustainability/pdf/SustRptFinal.pdf

Greening Mass Transit and Metro Regions is a report by The Metropolitan Transportation Authority's Blue-Ribbon Commission on Sustainability on ways the New York region, the MTA and the transit industry can become more environmentally sustainable. It provides recommendations for strategies and technologies that the transit agency and government officials can use to reduce the MTA region's environmental impact, while generating long-term savings and economic growth. It provides a model for urban and suburban regions nationwise. (January, 2009, 148 pages)
National Association of Corrosion Engineers (
NACE

) The Cost of Corrosion http://events.nace.org/publicaffairs/images_cocorr/ccsupp.pdf

Corrosion Costs and Preventive Strategies in the United States is the title of study on the direct costs associated with metallic corrosion in nearly every U.S. industry sector, from infrastructure and transportation to production and manufacturing. Results of the study show that the total annual estimated direct cost of corrosion in the U.S. is a staggering $276 billion – approximately 3.1% of the nation's Gross Domestic Product (GDP). It reveals that, although corrosion management has improved over the past several decades, the U.S. must find more and better ways to encourage, support, and implement optimal corrosion control practices. (July, 2002; link below is to a 12-page summary of the report.)
National Surface Transportation Infrastructure Financing Commission Proposed Reform of Transportation Infrastructure Finance
http://financecommission.dot.gov/Documents/NSTIF_Commission_Final_Report_Mar09FNL.pdf
Paying Our Way: A New Framework For Transportation Finance, was prepared by a specially convened Commission of 15 members, created by Congress. It offers a roadmap for sweeping reform of the nation's transportation infrastructure funding and finance framework. The report offers specific recommendations for increasing investment in transportation infrastructure, while at the same time moving the Federal government away from reliance on motor fuel taxes and toward more direct fees charged to transportation infrastructure users. (February, 2009; 252 pages)
National Surface Transportation Policy and Revenue Study Commission Recommendations for America's Surface Transportation System
http://www.mtc.ca.gov/news/NSTPRSC/nstprsc_exec_summ.pdf
Transportation for Tomorrow: Report of the National Surface Transportation Policy and Revenue Study Commission, was prepared by a specially convened Commission of 12 members, created by Congress. It includes a comprehensive plan to increase investment, expand services, repair infrastructure, demand accountability, and refocus Federal transportation programs, while maintaining a strong Federal role in surface transportation. (January, 2008; link below is to an 8-page summary of the report)
(The full report can be viewed at http://transportationfortomorrow.org/final_report/)
Rand Corporation What's Needed to Modernize Freight Transportation
http://www.rand.org/pubs/research_briefs/2009/RAND_RB9457-1.pdf
Modernizing the U.S. Freight-Transportation System for Future Economic Growth, a research brief by the Rand Corporation, describes approaches to modernizing the U.S. freight-transportation system that require whole-system modeling, engagement of all stakeholders, and an understanding of the interdependence between local and national costs and benefits. (June, 2009; 3 pages)
Regional Plan Association A Plan for New and Upgraded Transit for New York City and Northern New Jersey
http://www.rpa.org/pdf/RPA_tomorrows_transit.pdf
Tomorrow's Transit: New Mobility for the Region's Urban Core, a study by the Regional Plan Association, outlines new subway, bus, commuter rail, light rail and ferry projects for the Region's "Urban Core," which includes the five boroughs of New York City and urban portions of Northern New Jersey. The nearly forty recommendations focus on providing service to underserved and impoverished areas, better connections within the existing transit network and short- and long-term transit solutions with varying price tags. (October, 2008, 53 pages)
Transportation for America Maintaining and Expanding the Nation's Transportation System
http://t4america.org/docs/blueprint_full.pdf
The Route to Reform: Blueprint for a 21st Century Federal Transportation Program, is a report by Transportation America, focused on what is needed to modernize America's transportation system. Recommendations include developing a new national transportation vision, restructuring of federal transportation programs, reform of transportation agencies, and revised transportation finance. (May 2009, 100 pages)
U.S. Conference of Mayors Redeveloping Brownfields in the U.S.
http://usmayors.org/76thWinterMeeting/release_012408b_report.pdf
Recycling America's Land, a National Report on Brownfields, by the U.S. Conference of Mayors, addresses an issue that has been a top priority of the Conference of Mayors for 15 years. Brownfields are abandoned or underutilized properties found in almost every city, where redevelopment is complicated by contamination. The report examines the problem, and the goal of redeveloping such land and putting it to productive use. (January, 2008, 51 pages)
U.S. Department of Energy (
DOE

) Smart Grid System Report http://energy.gov/sites/prod/files/2010%20Smart%20Grid%20System%20Report.pdf

The 2010 Smart Grid Report, produced by the U.S. Department of Energy's Office of Electricity Delivery and Energy Reliability, was presented by the Secretary of Energy to the U.S. Congress in February of 2012. It reports on the status of smart grid deployments nationwide, to enhance the nation's electric power delivery system, and any regulatory or government barriers to continued deployment. (February 2012, 120 pages)
U.S. Geological Survey (
USGS

) How Changing Climate May Impact Water Resources http://pubs.usgs.gov/circ/1331/Circ1331.pdf

Climate Change and Water Resources Management: a Federal Perspective, is a report prepared by the USGS, the U.S. Army Corps of Engineers, Bureau of Reclamation, and National Oceanic and Atmospheric Administration. Climate change may have a large impact on water resources and water resources managers; the purpose of this report is to explore strategies to improve water management by tracking, anticipating, and responding to climate change. (January, 2009; 76 pages)
Miscellaneous: (in alphabetical order)
American Association of State Highway and Transportation Officials (
AASHTO

) http://americastransportationawards.org

America's Transportation Awards is a project of AASHTO, the non-profit, non-partisan association that represents transportation departments – air, highways, public transportation, rail, and water – and that works to foster the development, operation, and maintenance of an integrated national transportation system. The transportation projects chosen as finalists in America's Transportation Awards competition represent the best in innovative management, accountability and timeliness, and contend for the National Grand Prize, determined by an independent judging panel, and the People's Choice Award, selected through on-line voting.
More information on AASHTO and its publications is on its web-site, http://www.transportation.org.
U.S. Army Corps of Engineers (
USACE

) http://www.usace.army.mil/Media/Videos.aspx

The USACE, a federal agency and major army command, is involved in a wide range of U.S. public works and Department of Defense projects around the world. The Corps' web-site features more than 200 short, informative videos on infrastructure topics (most under 5 min.), including Corps and Community Fight for Hamburg, Iowa, about how the Corps teamed up with state and local entities and area farmers to protect the town during the Missouri River Basin Flood of 2011 and Central Valley Flood Risk, about efforts to reduce flooding in California with one of the world's largest flood reduction systems. Other video topics include the Corps' work regarding sustainable energy, endangered species, water quality, and disaster response; Corps' projects in Afghanistan also are described. The USACE web-site also features information on reports and other publications, and USACE news.
Also:
A variety of infrastructure related news items can be found on Facebook and Twitter sites, such as:
Building America's Future Facebook Group
http://www.facebook.com/pages/Building-Americas-Future/93937354725
Urban Land Institute on Twitter
http://twitter.com/urbanlandinst
Viewers: do you have Links to suggest? Please let us know - see the Contact page for e-mail and phone details.
The Infrastructure Show is sponsored by Northwestern University.
Descriptions of photos at top of page, from left to right: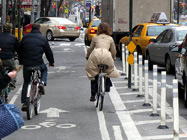 bicycle riders in a bike lane in the Chelsea District of New York, NY;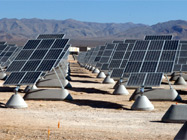 Nellis Solar Power Plant, Clark County, NV;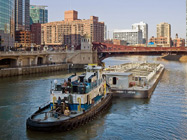 towboat and barge on the Chicago River in Chicago, IL;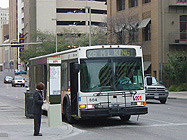 VIA Metropolitan Transport bus in San Antonio, TX.
All photos courtesy of Wikipedia.