The Infrastructure Show's Episodes
With Host Professor Joseph Schofer of Northwestern University.
Click on the link below the description to begin streaming the podcast. To subscribe to The Infrastructure Show podcasts or find in iTunes, see the clicks at the top of the page.

Soo Locks Photo Credit: US Army Corps of Engineers
(click for larger image)
Adding Essential Capacity to the Soo Locks
Posted April 25, 2019, Length: 23:00
The Soo locks bridge a 21 foot elevation difference between Lake Superior and Lake Huron and the rest of the Great Lakes in the Upper Peninsula of Michigan. These locks are an essential link in the U.S. steel supply chain. At the end of 2018, the U.S. Army Corps of Engineers Detroit District, which operates and maintains Soo Locks, advanced the plan to add capacity and redundancy to the Locks by releasing a study analyzing the economic value of investing nearly $1 billion dollars in a new lock. In this podcast we learn about the locks and the findings of this evaluation study from Lt. Col. Greg Turner, Commander of the Detroit District for the Corps.
The Infrastructure Show is sponsored by Northwestern University.
Descriptions of photos at top of page, from left to right: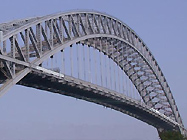 Bayonne Bridge, from Bayonne, NJ to Staten Island, NY;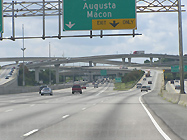 the Tom Moreland Interchange in Atlanta, GA;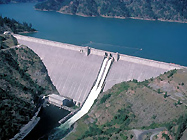 Dworshak Dam, in Clearwater County, ID;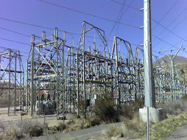 a transmission substation in Orem, UT.
All photos courtesy of Wikipedia.