The Infrastructure Show's Episodes
With Host Professor Joseph Schofer of Northwestern University.
Click on the link below the description to begin streaming the podcast. To subscribe to The Infrastructure Show podcasts or find in iTunes, see the clicks at the top of the page.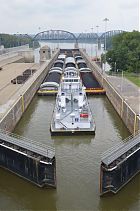 Tow boat in McAlpine Lock, Ohio River near Louisville Kentucky. Photo credit to: Gregory Thorp
(click for larger image)
Assuring a critical transportation resource: resilience of the inland waterways system
Posted June 27, 2018, Length: 18:12
The U.S. inland waterways system provides a highly efficient means for moving large quantities of bulk materials – agricultural products and natural resources – which is important both for domestic industries and the export market. But the locks and dams that support the waterway network comprise an aging infrastructure with limited capacity and almost no redundancy. Planned and unexpected lock closure for maintenance and rehabilitation impose substantial costs on our economy.
In this podcast we discuss the condition, performance, and funding of the inland waterways system with Dr. Craig Philip, who is Research Professor at Vanderbilt University and Director of VECTOR, the Vanderbilt Center for Transportation and Operational Resilience. Before joining Vanderbilt, Dr. Philip spent 30 years in the barge industry, 14 as President and CEO of Ingram Barge Lines, now the largest domestic maritime operator in the United States.
The Infrastructure Show is sponsored by Northwestern University.
Descriptions of photos at top of page, from left to right: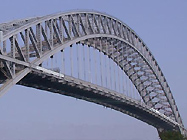 Bayonne Bridge, from Bayonne, NJ to Staten Island, NY;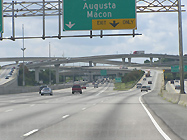 the Tom Moreland Interchange in Atlanta, GA;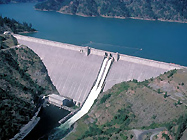 Dworshak Dam, in Clearwater County, ID;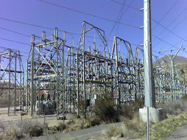 a transmission substation in Orem, UT.
All photos courtesy of Wikipedia.