The Infrastructure Show's Episodes
With Host Professor Joseph Schofer of Northwestern University.
Click on the link below the description to begin streaming the podcast. To subscribe to The Infrastructure Show podcasts or find in iTunes, see the clicks at the top of the page.

(click for larger image)
Battling Snow on the Roads of Colorado
Posted January 7, 2020, Length: 19:46
Colorado gets plenty of snow in the winter – some mountain areas dig out of as much as 40 feet in a season. Keeping the state roads open and safe for trucks and cars is both important and demanding.
To find out more about how it's done, the role technology is playing, we are speaking with Kyle Lester, who is Director of Maintenance and Operations for the Colorado Dept. of Transportation.
The Infrastructure Show is sponsored by Northwestern University.
Descriptions of photos at top of page, from left to right: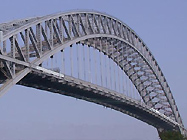 Bayonne Bridge, from Bayonne, NJ to Staten Island, NY;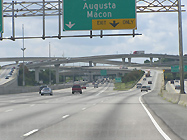 the Tom Moreland Interchange in Atlanta, GA;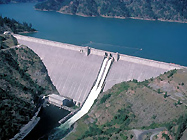 Dworshak Dam, in Clearwater County, ID;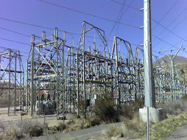 a transmission substation in Orem, UT.
All photos courtesy of Wikipedia.