The Infrastructure Show's Episodes
With Host Professor Joseph Schofer of Northwestern University.
Click on the link below the description to begin streaming the podcast. To subscribe to The Infrastructure Show podcasts or find in iTunes, see the clicks at the top of the page.

Examples of typical green infrastructure practices within a streetscape. Image credit: DC Water
(click for larger image)
Betting on Green: DC Water's Experiment with Green Stormwater Management
Posted September 26, 2017, Length: 26:25
Managing and treating stormwater is a challenge to many cities. Building treatment plants with sufficient capacity to process large volumes of runoff that occur occasionally is not cost effective. The District of Columbia, facing a Federal consent decree to treat its stormwater, has been building subterranean storage tunnels but is now testing green treatment options that, if they work, could save much money in the long run. This experiment is funded with an unusual bonding arrangement in which lenders are betting on its success. To learn about this approach we talk with George Hawkins, Chief Executive Officer and General Manager of DC Water.
The Infrastructure Show is sponsored by Northwestern University.
Descriptions of photos at top of page, from left to right: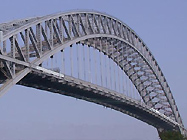 Bayonne Bridge, from Bayonne, NJ to Staten Island, NY;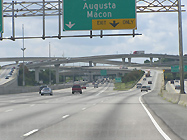 the Tom Moreland Interchange in Atlanta, GA;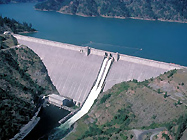 Dworshak Dam, in Clearwater County, ID;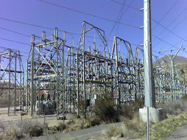 a transmission substation in Orem, UT.
All photos courtesy of Wikipedia.