The Infrastructure Show's Episodes
With Host Professor Joseph Schofer of Northwestern University.
Click on the link below the description to begin streaming the podcast. To subscribe to The Infrastructure Show podcasts or find in iTunes, see the clicks at the top of the page.

Inspecting cables on a suspension bridge. Picture credit: New York State Department of Transportation
(click for larger image)
Bridge Inspection
Posted April 24, 2018, Length: 21:12
The integrity of our infrastructure can be critical to life safety. Nowhere is this more obvious than our bridges. There are over 600,000 highway bridges in the United States, as well as a large number of transit, railroad, and pedestrian structures. Having timely and objective knowledge of the condition of these bridges is essential to assure their safety and efficiency. That knowledge comes from a program of systematic bridge inspections.
To help us understand the responsibilities and processes of bridge inspection, we're talking with Dr. Sreenivas Alampalli, who is Director of the Structures Evaluation Services Bureau of the New York State Department of Transportation.
The Infrastructure Show is sponsored by Northwestern University.
Descriptions of photos at top of page, from left to right: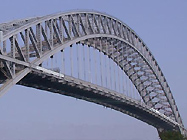 Bayonne Bridge, from Bayonne, NJ to Staten Island, NY;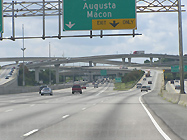 the Tom Moreland Interchange in Atlanta, GA;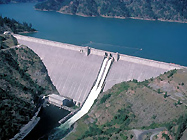 Dworshak Dam, in Clearwater County, ID;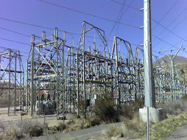 a transmission substation in Orem, UT.
All photos courtesy of Wikipedia.