The Infrastructure Show's Episodes
With Host Professor Joseph Schofer of Northwestern University.
Click on the link below the description to begin streaming the podcast. To subscribe to The Infrastructure Show podcasts or find in iTunes, see the clicks at the top of the page.

Explosive demolition of the Seattle Kingdome, March, 2000 Credit: Picture courtesy of Controlled Demolition, Inc.
(click for larger image)
Bringing Down Obsolete Infrastructure by Explosive Demolition
Posted January 25, 2017, Length: 20:10
When infrastructure becomes obsolete, unsafe, or the need for it goes away, and when the space is better used for something new, that facility must be demolished. Structures are usually disassembled piece by piece, but sometimes controlled explosion may be more efficient or necessary. This process may be no less complex than building a structure anew. In this interview we talk with Mark Loizeaux, President of Controlled Demolition, who tells us about how explosives are used to remove structures rapidly and safely.
The Infrastructure Show is sponsored by Northwestern University.
Descriptions of photos at top of page, from left to right: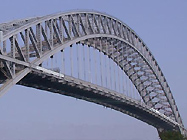 Bayonne Bridge, from Bayonne, NJ to Staten Island, NY;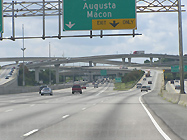 the Tom Moreland Interchange in Atlanta, GA;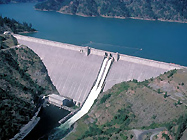 Dworshak Dam, in Clearwater County, ID;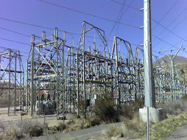 a transmission substation in Orem, UT.
All photos courtesy of Wikipedia.