The Infrastructure Show's Episodes
With Host Professor Joseph Schofer of Northwestern University.
Click on the link below the description to begin streaming the podcast. To subscribe to The Infrastructure Show podcasts or find in iTunes, see the clicks at the top of the page.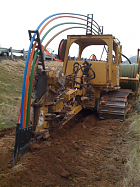 Installing fiber optic conduit along I-15, Utah Photo credit: Federal Highway Administration
(click for larger image)
Broadband Access - Technology and Policy
Posted December 2, 2020, Length: 22:28
Is the Internet a part of U.S. infrastructure? Although the physical infrastructure that carries the data is largely invisible, broadband Internet communication has become a backbone of our society and economy, carrying messages that support work, learning, purchasing, social connections, and medical services. Despite its centrality to daily life, fast and reliable broadband connectivity is not available to everyone.
To help us learn more about the functioning and coverage of the broadband network, we talk with Fabian Bustamante, Professor of Computer Science at Northwestern University.
The Infrastructure Show is sponsored by Northwestern University.
Descriptions of photos at top of page, from left to right: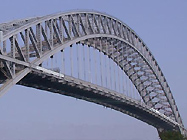 Bayonne Bridge, from Bayonne, NJ to Staten Island, NY;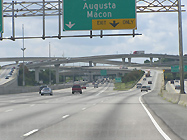 the Tom Moreland Interchange in Atlanta, GA;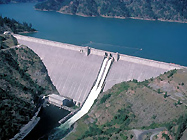 Dworshak Dam, in Clearwater County, ID;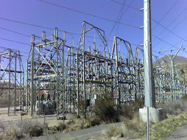 a transmission substation in Orem, UT.
All photos courtesy of Wikipedia.