The Infrastructure Show's Episodes
With Host Professor Joseph Schofer of Northwestern University.
Click on the link below the description to begin streaming the podcast. To subscribe to The Infrastructure Show podcasts or find in iTunes, see the clicks at the top of the page.

Photo courtesy of the Chicago Sun-Times.
(click for larger image)
Bus travel in the suburbs – the challenge of providing seamless transportation for riders
Posted August 15, 2013, Length: 21:24
Transit service in low-density suburbs is usually provided with buses operating on local streets – rail transit on separate rights of way is too costly given modest ridership levels. But providing bus service in contemporary U.S. suburbs can be a challenge both to the bus operator and the travelers themselves. Secure paths for getting to and from bus stops may not exist, and protected bus stops may be rare. To encourage transit ridership, it is important to offer seamless transportation – safe, efficient, and fast connections between origin and destination, including getting to and from the bus stops. The hosts talk about the challenges of providing seamless bus infrastructure in suburban communities with Michael Bolton, Deputy Executive Director, of Pace, the Chicago metropolitan area's suburban bus system.
The Infrastructure Show is sponsored by Northwestern University.
Descriptions of photos at top of page, from left to right: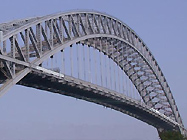 Bayonne Bridge, from Bayonne, NJ to Staten Island, NY;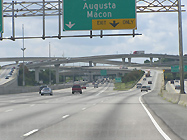 the Tom Moreland Interchange in Atlanta, GA;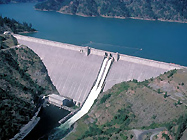 Dworshak Dam, in Clearwater County, ID;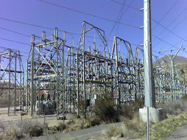 a transmission substation in Orem, UT.
All photos courtesy of Wikipedia.