The Infrastructure Show's Episodes
With Host Professor Joseph Schofer of Northwestern University.
Click on the link below the description to begin streaming the podcast. To subscribe to The Infrastructure Show podcasts or find in iTunes, see the clicks at the top of the page.

Photo of Sunshine Skyway Bridge, Tampa FL; photo courtesy of FIGG Engineering
(click for larger image)
Cable Stayed Bridges
Posted November 22, 2016, Length: 17:51
Cable stayed bridges have become increasingly common in the past few decade, and they seem to be the design of choice for modern bridges spanning 500 to as much as 2,000 feet. In this podcast we learn of the mechanics and the advantages of this architecturally appealing design from an expert in the field, Denny Pate, Senior Vice President and Principal Bridge Engineer with Figg Engineering in Tallahassee, Florida
The Infrastructure Show is sponsored by Northwestern University.
Descriptions of photos at top of page, from left to right: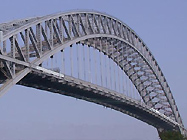 Bayonne Bridge, from Bayonne, NJ to Staten Island, NY;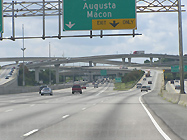 the Tom Moreland Interchange in Atlanta, GA;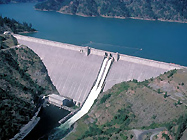 Dworshak Dam, in Clearwater County, ID;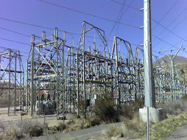 a transmission substation in Orem, UT.
All photos courtesy of Wikipedia.