The Infrastructure Show's Episodes
With Host Professor Joseph Schofer of Northwestern University.
Click on the link below the description to begin streaming the podcast. To subscribe to The Infrastructure Show podcasts or find in iTunes, see the clicks at the top of the page.

Photo credit: Paul James, Lendlease Construction
(click for larger image)
Concrete for Tall Buildings - Constructing Concrete Megastructures - Part III
Posted November 25, 2015, Length: 14:34
New and stronger concretes have become the standard material for very tall buildings, particularly residential buildings, where structural stiffness is important for the comfort of occupants. In this interview, Paul James, Senior Vice President with Lendlease U.S. Construction in Chicago, talks about the tradeoffs in design and materials selection as a function of use of the structure, the rate limiting factors in the construction of tall concrete and steel buildings, the effects of weather on construction speed, and the role of the construction engineer in material specification.
The Infrastructure Show is sponsored by Northwestern University.
Descriptions of photos at top of page, from left to right: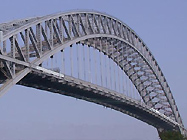 Bayonne Bridge, from Bayonne, NJ to Staten Island, NY;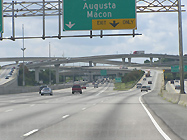 the Tom Moreland Interchange in Atlanta, GA;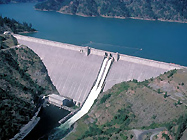 Dworshak Dam, in Clearwater County, ID;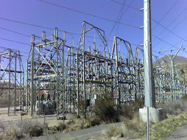 a transmission substation in Orem, UT.
All photos courtesy of Wikipedia.