The Infrastructure Show's Episodes
With Host Professor Joseph Schofer of Northwestern University.
Click on the link below the description to begin streaming the podcast. To subscribe to The Infrastructure Show podcasts or find in iTunes, see the clicks at the top of the page.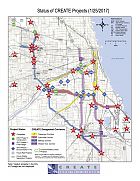 Photo Credit: CREATE Program, http://www.createprogram.org/
(click for larger image)
CREATE – Breaking the Railroad Bottleneck in Chicago
Posted May 22, 2017, Length: 20:13
Chicago is the rail hub for the nation, served by six of seven Class I railroads that form the major interchange point for east-west rail traffic. Because of the large number of rail and road conflicts, Chicago is also the focal point for congestion and delays on the national rail network. To address this problem, in 2003 the railroads joined forces with federal, state and local governments to establish a partnership called CREATE, for the Chicago Region Environmental and Transportation Efficiency Program. In this interview we talk with William Thompson, Chief Engineer of CREATE, who explains its mission, projects, and progress.
The Infrastructure Show is sponsored by Northwestern University.
Descriptions of photos at top of page, from left to right: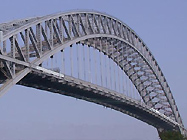 Bayonne Bridge, from Bayonne, NJ to Staten Island, NY;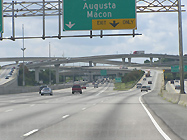 the Tom Moreland Interchange in Atlanta, GA;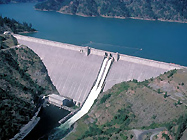 Dworshak Dam, in Clearwater County, ID;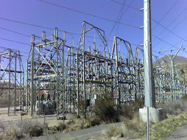 a transmission substation in Orem, UT.
All photos courtesy of Wikipedia.