The Infrastructure Show's Episodes
With Host Professor Joseph Schofer of Northwestern University.
Click on the link below the description to begin streaming the podcast. To subscribe to The Infrastructure Show podcasts or find in iTunes, see the clicks at the top of the page.

Drawing of LaGuardia Airport courtesy of the Regional Plan Association, from their report "Under Water: How Sea Level Rise Threatens the Tri-State Region"
(click for larger image)
Critical Airport Fights Rising Sea Level
Posted January 29, 2018, Length: 14:09
Some airports face serious flood risks because they are flat by design and are located in coastal or riverine settings. Airports in New York are particularly vulnerable because they face both rising sea level and severe storms. Richard Barone, Vice President for Transportation of the Regional Plan Association has studied these airport flood risks and discusses them in this interview.
The Infrastructure Show is sponsored by Northwestern University.
Descriptions of photos at top of page, from left to right: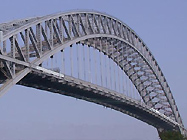 Bayonne Bridge, from Bayonne, NJ to Staten Island, NY;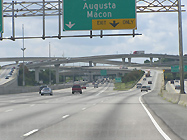 the Tom Moreland Interchange in Atlanta, GA;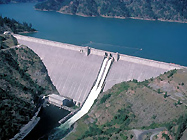 Dworshak Dam, in Clearwater County, ID;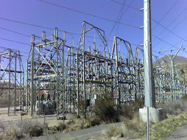 a transmission substation in Orem, UT.
All photos courtesy of Wikipedia.