The Infrastructure Show's Episodes
With Host Professor Joseph Schofer of Northwestern University.
Click on the link below the description to begin streaming the podcast. To subscribe to The Infrastructure Show podcasts or find in iTunes, see the clicks at the top of the page.

Photo courtesy of the Metropolitan Water Reclamation District of Greater Chicago
(click for larger image)
Storing Stormwater Underground - Chicago's Deep tunnel System
Posted December 11, 2019, Length: 20:01
Managing stormwater in cities is important to reduce flooding and secure people and property. Stormwater needs some kind of treatment before it flows to surface waters, and that treatment can be essential in older areas where stormwater and sanitary waste are collected in combined sewers. The Chicago area has built a network of underground tunnels to store that stormwater for later treatment before it goes to the river.
To understand this extraordinary project we're talking with Kevin Fitzpatrick, Managing Civil Engineer for the Metropolitan Water Reclamation District of Greater Chicago, who works on what is called the Tunnel and Reservoir Plan.
The Infrastructure Show is sponsored by Northwestern University.
Descriptions of photos at top of page, from left to right: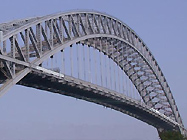 Bayonne Bridge, from Bayonne, NJ to Staten Island, NY;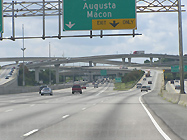 the Tom Moreland Interchange in Atlanta, GA;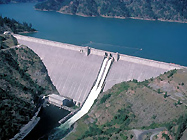 Dworshak Dam, in Clearwater County, ID;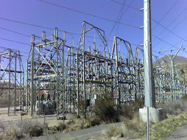 a transmission substation in Orem, UT.
All photos courtesy of Wikipedia.