The Infrastructure Show's Episodes
With Host Professor Joseph Schofer of Northwestern University.
Click on the link below the description to begin streaming the podcast. To subscribe to The Infrastructure Show podcasts or find in iTunes, see the clicks at the top of the page.

Barrier island damage due to Hurricane Ike courtesy of Texas A & M Department of Marine Sciences
(click for larger image)
Defending Against Storm Surges in the Houston-Galveston Area
Posted August 22, 2016, Length: 17:03
The threat of damaging storm surges grows as sea levels rise and the frequency of severe storms increases. Some U.S. cities on the east and Gulf coasts are particularly vulnerable to storm surges. Houston is the fourth-largest city in the country, home to the nation's largest refining and petrochemical complex, and it may be right behind Galveston in the path of the next big Gulf hurricane. This area has been hit hard by past hurricanes, which underscores the importance of protecting it. In this podcast, Prof. Wesley Highfield of the department of Marine Sciences at Texas A&M University at Galveston discusses storm surge risks, protective options, decisions to act, and lessons for other coastal cities.
The Infrastructure Show is sponsored by Northwestern University.
Descriptions of photos at top of page, from left to right: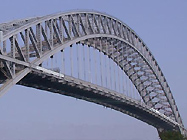 Bayonne Bridge, from Bayonne, NJ to Staten Island, NY;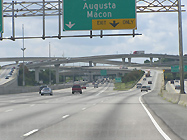 the Tom Moreland Interchange in Atlanta, GA;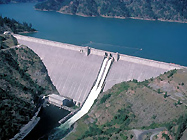 Dworshak Dam, in Clearwater County, ID;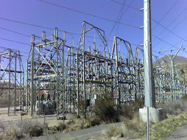 a transmission substation in Orem, UT.
All photos courtesy of Wikipedia.