The Infrastructure Show's Episodes
With Host Professor Joseph Schofer of Northwestern University.
Click on the link below the description to begin streaming the podcast. To subscribe to The Infrastructure Show podcasts or find in iTunes, see the clicks at the top of the page.

Field archaeologists mapping archaeological deposits in Ottawa County, MI in advance of M-231 construction; photo courtesy of MDOT.
(click for larger image)
Digging into the past: archeology helps move infrastructure forward
Posted September 4, 2017, Length: 22:43
Almost every infrastructure system has its foundation in the earth, and the earth can hide interesting and important secrets from the past. This creates what is perhaps a surprising role for archeology in infrastructure construction. To anticipate, identify and preserve valued subsurface finds, many infrastructure agencies engage archeologists as full-time professionals or contractors. In this interview we learn about the archeology-infrastructure connection from James Robertson, who is senior archeologist with the Michigan Department of Transportation.
The Infrastructure Show is sponsored by Northwestern University.
Descriptions of photos at top of page, from left to right: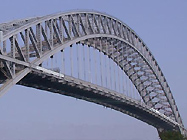 Bayonne Bridge, from Bayonne, NJ to Staten Island, NY;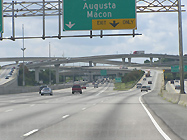 the Tom Moreland Interchange in Atlanta, GA;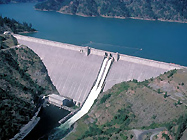 Dworshak Dam, in Clearwater County, ID;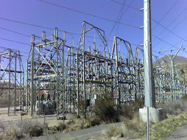 a transmission substation in Orem, UT.
All photos courtesy of Wikipedia.