The Infrastructure Show's Episodes
With Host Professor Joseph Schofer of Northwestern University.
Click on the link below the description to begin streaming the podcast. To subscribe to The Infrastructure Show podcasts or find in iTunes, see the clicks at the top of the page.

Photo of DJI Phantom Vision 2+ quadcopter provided courtesy of Denver Public Works.
(click for larger image)
Drones for flood control infrastructure inspection in Denver
Posted July 25, 2016, Length: 13:48
Unmanned aerial cameras – drones – are becoming a standard part of the infrastructure management toolkit. They are particularly useful for inspecting widely dispersed facilities in areas than can be difficult to navigate on the ground. Although there are important flight restrictions that preclude operations over populated areas, there is a growing set of applications in surveillance and inspection for large-scale infrastructure systems. In this discussion, Kevin Lewis of the Denver Department of Public Works describes the merits of using an off-the-shelf quadcopter drone to inspect critical flood control structures.
The Infrastructure Show is sponsored by Northwestern University.
Descriptions of photos at top of page, from left to right: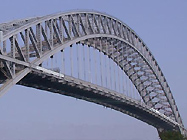 Bayonne Bridge, from Bayonne, NJ to Staten Island, NY;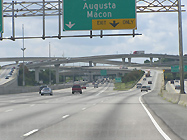 the Tom Moreland Interchange in Atlanta, GA;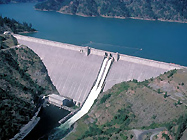 Dworshak Dam, in Clearwater County, ID;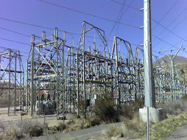 a transmission substation in Orem, UT.
All photos courtesy of Wikipedia.