The Infrastructure Show's Episodes
With Host Professor Joseph Schofer of Northwestern University.
Click on the link below the description to begin streaming the podcast. To subscribe to The Infrastructure Show podcasts or find in iTunes, see the clicks at the top of the page.

Photo caption: Installation of an energy wall for a building located in Lausanne, Switzerland (photo courtesy of GEOEG).
(click for larger image)
Energy from the Earth – How does it work?
Posted August 1, 2022, Length: 22:23
Because temperatures below the surface of the earth are relatively constant year around, the earth can be used as a heat sink or source to cool or heat buildings, offering an energy source that is not only carbon-free, but is also constant. How does this work? Where and how can we use this seemingly free energy source?
To answer these questions, we talk with Alessandro Rotta Loria, Assistant Professor of Civil & Environmental Engineering at Northwestern University, who studies the connections between geomechanics, energy, and environmental sustainability.
The Infrastructure Show is sponsored by Northwestern University.
Descriptions of photos at top of page, from left to right: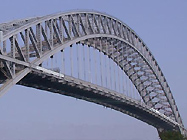 Bayonne Bridge, from Bayonne, NJ to Staten Island, NY;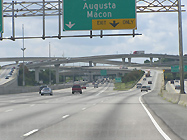 the Tom Moreland Interchange in Atlanta, GA;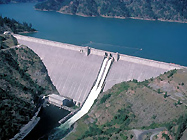 Dworshak Dam, in Clearwater County, ID;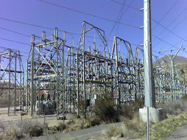 a transmission substation in Orem, UT.
All photos courtesy of Wikipedia.