The Infrastructure Show's Episodes
With Host Professor Joseph Schofer of Northwestern University.
Click on the link below the description to begin streaming the podcast. To subscribe to The Infrastructure Show podcasts or find in iTunes, see the clicks at the top of the page.

Photo courtesy of The Boston Globe
(click for larger image)
Funding of transportation infrastructure
Posted September 26, 2013, Length: 26:05
In Europe and other developed countries of the world, infrastructure spending generally is regarded as an investment for the common good of the citizens. In the United States, on the other hand, infrastructure spending is treated in budgeting as an expense rather than an investment. Thus, in recent years Congress has tended to ignore the value of our built assets and to focus on the country's budget deficit. How can the U.S. make infrastructure improvements given the funding obstacles that exist today? Focusing in particular on transportation infrastructure, the hosts talk with Mort Downey, a Senior Advisor for Parsons Brinckerhoff, who was Deputy Secretary of the U.S. Department of Transportation from 1993 to 2001. During his years with the DOT, he helped to double infrastructure funding.
The Infrastructure Show is sponsored by Northwestern University.
Descriptions of photos at top of page, from left to right: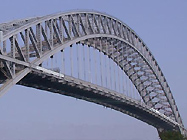 Bayonne Bridge, from Bayonne, NJ to Staten Island, NY;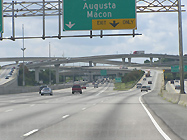 the Tom Moreland Interchange in Atlanta, GA;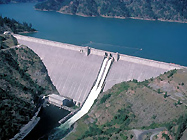 Dworshak Dam, in Clearwater County, ID;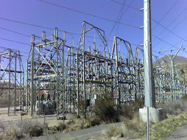 a transmission substation in Orem, UT.
All photos courtesy of Wikipedia.