The Infrastructure Show's Episodes
With Host Professor Joseph Schofer of Northwestern University.
Click on the link below the description to begin streaming the podcast. To subscribe to The Infrastructure Show podcasts or find in iTunes, see the clicks at the top of the page.

The Port of Virginia Photo courtesy of the Virginia Port Authority
(click for larger image)
Keeping the Port of Virginia Flowing
Posted November 1, 2022, Length: 20:55
Marine ports are gateways to world trade, and their efficient functioning is a pillar of our economy. East and Gulf Coast ports have grown more important in recent years because of the expanded Panama Canal locks opened in 2016 and continuing congestion in West Coast ports and overland transportation. The Port of Virginia has been making important infrastructure investments to secure its position in this competition for world trade.
To learn how it became the second busiest container port on the East Coast, in this podcast we talk with Stephen Edwards, CEO and Executive Director of the Virginia Port Authority (VPA).
The Infrastructure Show is sponsored by Northwestern University.
Descriptions of photos at top of page, from left to right: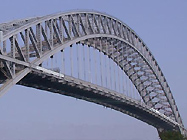 Bayonne Bridge, from Bayonne, NJ to Staten Island, NY;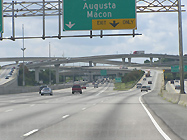 the Tom Moreland Interchange in Atlanta, GA;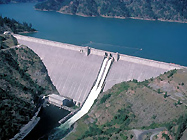 Dworshak Dam, in Clearwater County, ID;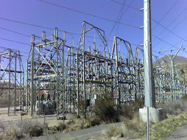 a transmission substation in Orem, UT.
All photos courtesy of Wikipedia.