The Infrastructure Show's Episodes
With Host Professor Joseph Schofer of Northwestern University.
Click on the link below the description to begin streaming the podcast. To subscribe to The Infrastructure Show podcasts or find in iTunes, see the clicks at the top of the page.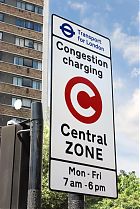 (click for larger image)
London's congestion charge — on its 10-year anniversary, a look at lessons learned
Posted March 15, 2013, Length: 22:17
In February of 2003, the City of London, led by then-mayor Ken Livingstone, implemented a long-discussed plan for charging motor vehicles entering Central London during weekdays, with the goal of reducing traffic congestion and pollution levels. It was the largest implementation of a congestion pricing scheme anywhere it the world. While initially many residents and businesses feared that the congestion charging system would impede access, damage central area businesses, and create inequities, today, 10 years on, it is generally regarded as an effective and efficient model of urban congestion management, and cities around the world are using the London experience as a guide for their own policies. The hosts talk about lessons learned with Paul Cowperthwaite, Head of Contracted Services for Transport for London, the governmental agency responsible for transportation in the London area.
The Infrastructure Show is sponsored by Northwestern University.
Descriptions of photos at top of page, from left to right: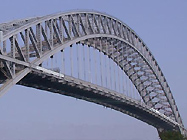 Bayonne Bridge, from Bayonne, NJ to Staten Island, NY;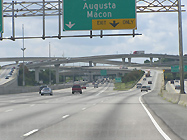 the Tom Moreland Interchange in Atlanta, GA;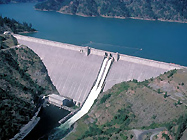 Dworshak Dam, in Clearwater County, ID;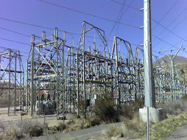 a transmission substation in Orem, UT.
All photos courtesy of Wikipedia.