The Infrastructure Show's Episodes
With Host Professor Joseph Schofer of Northwestern University.
Click on the link below the description to begin streaming the podcast. To subscribe to The Infrastructure Show podcasts or find in iTunes, see the clicks at the top of the page.

Photo credit: Photograph of Erie Canal Locks at Little Falls, taken late nineteenth-early twentieth century; courtesy of New York State Museum.
(click for larger image)
Looking Back on the Erie Canal
Posted December 1, 2021, Length: 23:59
History can be a great teacher, particularly so when it comes to infrastructure achievements. During the Bicentennial period of the construction of the Erie Canal, it is appropriate and informative to look back at this groundbreaking infrastructure project. Built between 1817 and 1825, the Erie Canal opened the Midwest to trade and settlement, and by cutting freight rates by 75% overnight, it boosted the commercial power of New York City. It offers lessons about the link between accessibility and economic development, the merits of strategic public investment, as well as the conflicts that can occur in public finance decisions.
To remind us of this history, we're joined by Brad Utter, Senior Historian and Curator at the New York State Museum and author of the 2020 book, Enterprising Waters – the History and Art of New York's Erie Canal.
The Infrastructure Show is sponsored by Northwestern University.
Descriptions of photos at top of page, from left to right: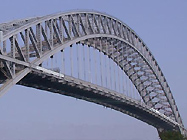 Bayonne Bridge, from Bayonne, NJ to Staten Island, NY;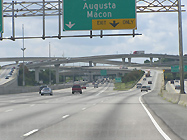 the Tom Moreland Interchange in Atlanta, GA;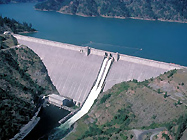 Dworshak Dam, in Clearwater County, ID;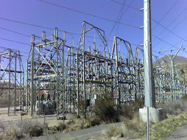 a transmission substation in Orem, UT.
All photos courtesy of Wikipedia.