The Infrastructure Show's Episodes
With Host Professor Joseph Schofer of Northwestern University.
Click on the link below the description to begin streaming the podcast. To subscribe to The Infrastructure Show podcasts or find in iTunes, see the clicks at the top of the page.

11th Street Bridge Park EEC, aerial view Photo courtesy OMA+OLIN
(click for larger image)
Making Roads Into Parks - Washington, DC's 11th Street Bridge Park Project
Posted April 2, 2020, Length: 22:01
Sometimes obsolete infrastructure can become a new asset. That's Washington, D.C.'s plan for an unneeded highway bridge over the Anacostia River. The 11th Street Bridge Park, set for construction starting in 2021, will bring green and hard-surface open space, event venues, and new access to the river itself to the southeast sector of the District of Columbia.
In this podcast, Scott Kratz, Director of the project, gives us the details of this new urban feature.
The Infrastructure Show is sponsored by Northwestern University.
Descriptions of photos at top of page, from left to right: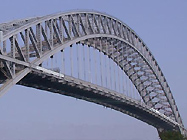 Bayonne Bridge, from Bayonne, NJ to Staten Island, NY;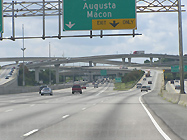 the Tom Moreland Interchange in Atlanta, GA;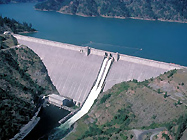 Dworshak Dam, in Clearwater County, ID;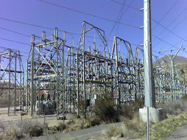 a transmission substation in Orem, UT.
All photos courtesy of Wikipedia.