The Infrastructure Show's Episodes
With Host Professor Joseph Schofer of Northwestern University.
Click on the link below the description to begin streaming the podcast. To subscribe to The Infrastructure Show podcasts or find in iTunes, see the clicks at the top of the page.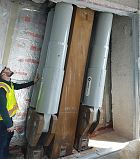 Four large linear dampers installed in 181 Freemont Street, San Francisco, photo courtesy of Arup
(click for larger image)
Managing Motion in Tall Structures
Posted October 1, 2020, Length: 17:52
All tall structures are designed to sway in response to wind and earthquakes for reasons of efficiency and economy, but it is important to control that movement for the comfort of occupants.
To learn about some of the technologies for managing the response of tall buildings to wind, we talk with Dr. Mark Nelson, who leads the Advanced Technology and Research Group in the New York City office of Arup, an international engineering and architectural design firm.
The Infrastructure Show is sponsored by Northwestern University.
Descriptions of photos at top of page, from left to right: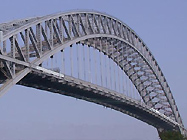 Bayonne Bridge, from Bayonne, NJ to Staten Island, NY;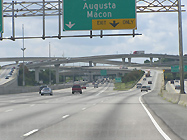 the Tom Moreland Interchange in Atlanta, GA;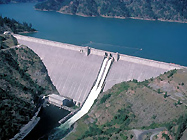 Dworshak Dam, in Clearwater County, ID;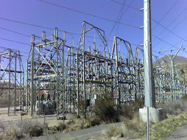 a transmission substation in Orem, UT.
All photos courtesy of Wikipedia.