The Infrastructure Show's Episodes
With Host Professor Joseph Schofer of Northwestern University.
Click on the link below the description to begin streaming the podcast. To subscribe to The Infrastructure Show podcasts or find in iTunes, see the clicks at the top of the page.

Photo courtesy of the U.S. Maritime Administration
(click for larger image)
What Panama Canal Expansion Means to the U.S. - Part I
Posted June 16, 2015, Length: 12:32
The expanded Panama Canal is scheduled to open in the winter of 2016, featuring a new, parallel set of locks and deeper channels, allowing the passage of Neo-Panamax container ships carrying as many as 13,000 twenty-foot equivalent units (TEUs), in contrast to 5000 TEU capacity of today's Panamax ships, as well as larger bulk carriers and now LNG ships. Larger ships mean lower transportation costs, and the possibility of reducing consumer prices and making some US businesses more competitive in the global markets. But a key question for the U.S. is "Are our ports, harbor, and landside transportation systems ready for these larger ships?" Are channels deep enough, cranes sufficiently large and plentiful, and do rail, road, and storage facilities have the throughput capacity to move the bulk and containerized goods? Host Joseph Schofer discusses the national perspective on port readiness with Roger Bohnert, Deputy Associate Administrator-Office of Intermodal System Development, and Yvette Fields, Director, Office of Deepwater Ports and Offshore Activities, at the U.S. Maritime Administration (MARAD). The Phase I report of MARAD's Panama Canal impact study is here
The Infrastructure Show is sponsored by Northwestern University.
Descriptions of photos at top of page, from left to right: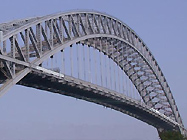 Bayonne Bridge, from Bayonne, NJ to Staten Island, NY;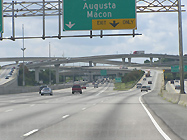 the Tom Moreland Interchange in Atlanta, GA;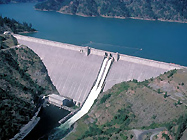 Dworshak Dam, in Clearwater County, ID;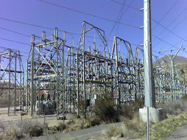 a transmission substation in Orem, UT.
All photos courtesy of Wikipedia.