The Infrastructure Show's Episodes
With Host Professor Joseph Schofer of Northwestern University.
Click on the link below the description to begin streaming the podcast. To subscribe to The Infrastructure Show podcasts or find in iTunes, see the clicks at the top of the page.

San Mateo County Office Building (COB3) in Redwood City, California, under construction. Photo © Cesar Rubio Photography
(click for larger image)
Mass Timber Buildings – New Ways to Build with an Old Material
Posted June 1, 2023, Length: 20:48
Wood has been perhaps the most common material for buildings for millennia, but innovations in its application are bringing new opportunities and advantages for working with this sustainable material. Structural applications of mass timber are proliferating in types and scales. Factory assembly of wood components can produce stronger elements in designed architectural shapes.
To find out more about the characteristics and benefits of new uses of wood for infrastructure, we talk with Eric Long, Structural Engineering Partner at Skidmore, Owings & Merrill in San Francisco, who leads the firm's West Coast Structural Engineering practice.
The Infrastructure Show is sponsored by Northwestern University.
Descriptions of photos at top of page, from left to right: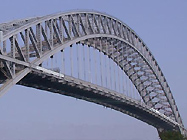 Bayonne Bridge, from Bayonne, NJ to Staten Island, NY;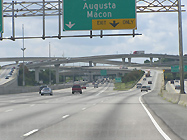 the Tom Moreland Interchange in Atlanta, GA;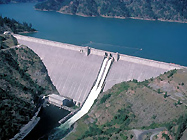 Dworshak Dam, in Clearwater County, ID;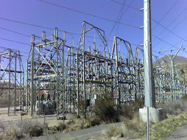 a transmission substation in Orem, UT.
All photos courtesy of Wikipedia.