The Infrastructure Show's Episodes
With Host Professor Joseph Schofer of Northwestern University.
Click on the link below the description to begin streaming the podcast. To subscribe to The Infrastructure Show podcasts or find in iTunes, see the clicks at the top of the page.

Photo courtesy of Minnetonkascenes
(click for larger image)
Mitigating Noisy Trains
Posted July 31, 2018, Length: 16:45
Noise is an almost unavoidable result of the operation of transportation and other infrastructure systems. Trains, planes, and automobiles produce noise that can be a warning but is mainly a source of annoyance and sometimes health risk to neighbors, riders, and employees.
Measurement and management of transportation noise are complex tasks requiring an understanding of physics, technology, human perception, and economics. To introduce us to some of the problems, methods, and interventions for addressing transportation noise we talk with Dr. Hugh Saurenman, president of ATS consulting, which conducts acoustic evaluations and develops mitigation strategies for transportation facilities.
The Infrastructure Show is sponsored by Northwestern University.
Descriptions of photos at top of page, from left to right: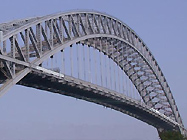 Bayonne Bridge, from Bayonne, NJ to Staten Island, NY;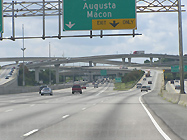 the Tom Moreland Interchange in Atlanta, GA;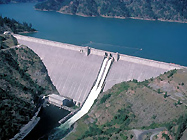 Dworshak Dam, in Clearwater County, ID;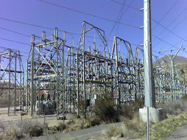 a transmission substation in Orem, UT.
All photos courtesy of Wikipedia.