The Infrastructure Show's Episodes
With Host Professor Joseph Schofer of Northwestern University.
Click on the link below the description to begin streaming the podcast. To subscribe to The Infrastructure Show podcasts or find in iTunes, see the clicks at the top of the page.

Photo of Fargo-Moorhead Floodgate Model courtesy of U.S. Army Corps of Engineers
(click for larger image)
Models for Designing Flood Mitigation Infrastructure – The Fargo-Moorhead Project
Posted November 2, 2020, Length: 21:03
River basins in the Midwestern U.S. are under growing threat from flooding driven by climate change. Within the flood control and protection portfolio of the U.S. Army Corps of Engineers is a large project to mitigate flood risk for the towns of Fargo, ND, and Moorhead, MN, its neighbor across the Red River. The design itself is informed by a large-scale physical model developed by the Corps.
To learn about the project and the model used to guide its design, we talk with Gary Bell, Research Hydraulic Engineer in the Coastal and Hydraulics Laboratory of US Army Corps of Engineers Research and Development Center in Vicksburg, Mississippi.
The Infrastructure Show is sponsored by Northwestern University.
Descriptions of photos at top of page, from left to right: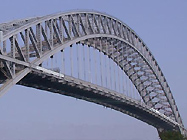 Bayonne Bridge, from Bayonne, NJ to Staten Island, NY;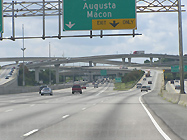 the Tom Moreland Interchange in Atlanta, GA;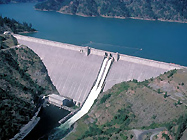 Dworshak Dam, in Clearwater County, ID;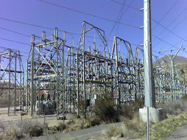 a transmission substation in Orem, UT.
All photos courtesy of Wikipedia.