The Infrastructure Show's Episodes
With Host Professor Joseph Schofer of Northwestern University.
Click on the link below the description to begin streaming the podcast. To subscribe to The Infrastructure Show podcasts or find in iTunes, see the clicks at the top of the page.

Flooding on Interstate 29, 24 miles north of Council Bluffs, IA, October, 2019. Photo courtesy of the Iowa Department of Transportation
(click for larger image)
Moving Traffic When Flood Waters Rise
Posted October 1, 2021, Length: 18:09
It's the functionality of infrastructure that brings value, and when natural hazards disrupt that functionality, the costs can be high. This is a growing problem for transportation networks, which are being assaulted by wildfires, landslides, and floods with increasing frequency and severity. What does it take to keep a road network flowing when the flood waters rise?
To learn about this critical role for the economy and society, we talk with Austin Yates, engineer with the Iowa Department of Transportation, which has had more than its share of flood disruptions in recent years.
The Infrastructure Show is sponsored by Northwestern University.
Descriptions of photos at top of page, from left to right: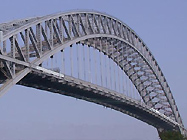 Bayonne Bridge, from Bayonne, NJ to Staten Island, NY;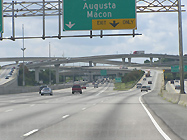 the Tom Moreland Interchange in Atlanta, GA;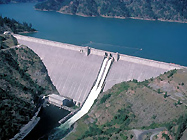 Dworshak Dam, in Clearwater County, ID;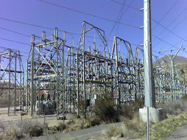 a transmission substation in Orem, UT.
All photos courtesy of Wikipedia.