The Infrastructure Show's Episodes
With Host Professor Joseph Schofer of Northwestern University.
Click on the link below the description to begin streaming the podcast. To subscribe to The Infrastructure Show podcasts or find in iTunes, see the clicks at the top of the page.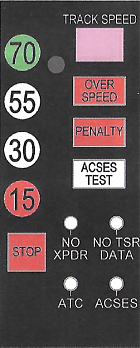 Aspect Display Unity (ADU) to inform locomotive engineer whether the train is operating under cab signal system or ACSES Advanced Civil Speed Enforcement System Positive Train Control. Picture credit: New York and Atlantic Railroad
(click for larger image)
Positive Train Control
Posted July 26, 2019, Length: 20:03
Positive Train Control, or PTC, is a set of technologies designed to assure that our railroad system is protected from collisions and error-driven accidents. The system tracks the location of trains, compares their immediate operations to infrastructure limits, the presence of other trains, and other sources of risks, and guides operators, or the trains themselves, to avoid accidents.
PTC is a complicated and varied system being deployed across the nation. Two distinct systems are in use – Interoperable Electronic Train Management System (I-ETMS) and ACSES – Advanced Civil Speed Enforcement System. To help us understand these systems and to learn more about PTC, we talk with Paul Victor, an experienced railroader and former President of the New York and Atlantic Railroad, a short line railroad serving customers in the New York City Metropolitan area.
The Infrastructure Show is sponsored by Northwestern University.
Descriptions of photos at top of page, from left to right: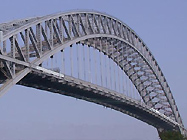 Bayonne Bridge, from Bayonne, NJ to Staten Island, NY;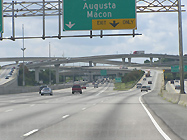 the Tom Moreland Interchange in Atlanta, GA;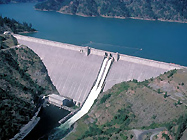 Dworshak Dam, in Clearwater County, ID;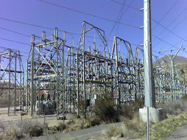 a transmission substation in Orem, UT.
All photos courtesy of Wikipedia.