The Infrastructure Show's Episodes
With Host Professor Joseph Schofer of Northwestern University.
Click on the link below the description to begin streaming the podcast. To subscribe to The Infrastructure Show podcasts or find in iTunes, see the clicks at the top of the page.

(click for larger image)
Privately owned dams
Posted October 25, 2010, Length: 28:22
According to the U.S. Army Corps of Engineers, there are currently more than 85,000 dams in the U.S. Surprisingly, the majority of these dams are privately owned – the Association of State Dam Safety Officials estimates that fraction number at 65%. These private dams are under state regulation, but many state dam offices lack adequate operating funds, and as well, states differ widely regarding their safety standards. The publicized failures of two private dams this year – the 300-year-old Freetown, Massachusetts dam in March and the Lake Delhi dam in Iowa in July – have brought attention to the safety of privately owned dams. Just how safe are they? And who is responsible when they fail? The hosts discuss this topic with David Gutierrez of the California Department of Water Resources. He is Acting Chief in the Division of Dam Safety, and also is the current President of the Association of State Dam Safety Officials.
The Infrastructure Show is sponsored by Northwestern University.
Descriptions of photos at top of page, from left to right: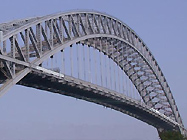 Bayonne Bridge, from Bayonne, NJ to Staten Island, NY;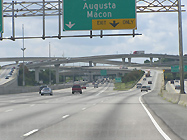 the Tom Moreland Interchange in Atlanta, GA;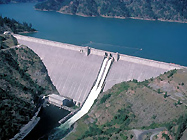 Dworshak Dam, in Clearwater County, ID;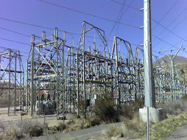 a transmission substation in Orem, UT.
All photos courtesy of Wikipedia.