The Infrastructure Show's Episodes
With Host Professor Joseph Schofer of Northwestern University.
Click on the link below the description to begin streaming the podcast. To subscribe to The Infrastructure Show podcasts or find in iTunes, see the clicks at the top of the page.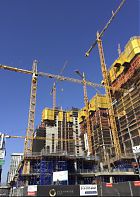 Photo of tower crane provided by Crane Safety & Inspections, Inc.
(click for larger image)
Reaching for the sky - cranes and modern infrastructure
Posted February 26, 2018, Length: 22:53
Cranes are prominent on the skyline of every city, serving as a measure of the pace of development. They are essential tools for infrastructure construction, a source of fascination for the sidewalk superintendent, and in some cases, a source of risk. To explore the role, functioning, and safety of large cranes in construction we talk with Greg Teslia, President, Crane Safety and Inspections, of Coral Springs, Florida.
The Infrastructure Show is sponsored by Northwestern University.
Descriptions of photos at top of page, from left to right: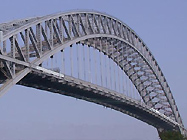 Bayonne Bridge, from Bayonne, NJ to Staten Island, NY;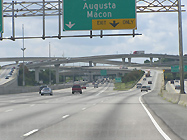 the Tom Moreland Interchange in Atlanta, GA;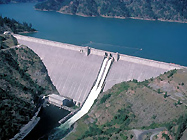 Dworshak Dam, in Clearwater County, ID;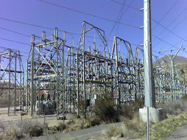 a transmission substation in Orem, UT.
All photos courtesy of Wikipedia.