The Infrastructure Show's Episodes
With Host Professor Joseph Schofer of Northwestern University.
Click on the link below the description to begin streaming the podcast. To subscribe to The Infrastructure Show podcasts or find in iTunes, see the clicks at the top of the page.

Photo of Merchants Bridge project, courtesy of The Walsh Group.
(click for larger image)
Rebuilding the Merchants Bridge while Keeping Traffic Moving
Posted September 1, 2022, Length: 17:16
Replacing an active railroad bridge while limiting disruptions to both rail and river traffic presents significant challenges in design and construction staging. The 1889 Merchants Bridge at St. Louis – the oldest remaining rail bridge across the Mississippi River – needed to be upgraded to modern standards. The work involved removal and replacement of three truss spans, accomplished in separate time windows, and demanding the precise coordination of multiple contractors, as well as rail and waterways operations.
In this podcast we talk with Dan Sieve, Senior Project Manager for Walsh Construction, the company that led the effort, to learn how the work was done.
The Infrastructure Show is sponsored by Northwestern University.
Descriptions of photos at top of page, from left to right: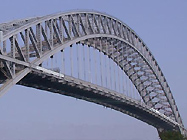 Bayonne Bridge, from Bayonne, NJ to Staten Island, NY;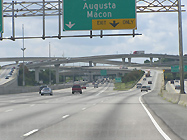 the Tom Moreland Interchange in Atlanta, GA;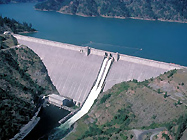 Dworshak Dam, in Clearwater County, ID;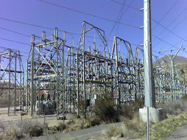 a transmission substation in Orem, UT.
All photos courtesy of Wikipedia.