The Infrastructure Show's Episodes
With Host Professor Joseph Schofer of Northwestern University.
Click on the link below the description to begin streaming the podcast. To subscribe to The Infrastructure Show podcasts or find in iTunes, see the clicks at the top of the page.

Photo of Valencia Street Bikeway courtesy of the San Francisco Municipal Transportation Agency
(click for larger image)
Redesigning Streets for People
Posted March 2, 2021, Length: 18:10
City streets do much more than just move traffic. They connect to our homes and businesses, supporting not just motor vehicles but pedestrian and bicycle traffic as well, and serving in the way of the ancient forum by proving spaces to shop, mingle, and play. Many large cities are diversifying the use of their streets by reconfiguring them to accommodate this multiplicity of functions safely.
To learn about some of these initiatives, we talk with Jamie Parks, who is Livable Street Director with the San Francisco Municipal Transportation Agency.
The Infrastructure Show is sponsored by Northwestern University.
Descriptions of photos at top of page, from left to right: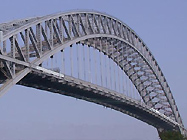 Bayonne Bridge, from Bayonne, NJ to Staten Island, NY;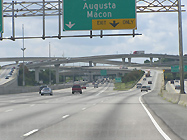 the Tom Moreland Interchange in Atlanta, GA;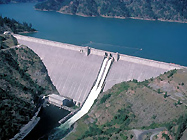 Dworshak Dam, in Clearwater County, ID;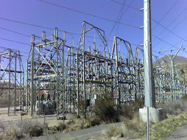 a transmission substation in Orem, UT.
All photos courtesy of Wikipedia.