The Infrastructure Show's Episodes
With Host Professor Joseph Schofer of Northwestern University.
Click on the link below the description to begin streaming the podcast. To subscribe to The Infrastructure Show podcasts or find in iTunes, see the clicks at the top of the page.

(click for larger image)
A look at the Sacramento-San Joaquin River Delta levee system – and the complex challenge of ensuring its safety
Posted June 29, 2012, Length: 26:04
Two thirds of the State of California's fresh water needs are supplied by the Sacramento-San Joaquin River Delta in Northern California. Runoff flows into the delta from the Sierra Nevada Mountains, the Cascade Range, and the Pacific Coast Range. Until the 1800s, the delta flooded each year in the spring, but in the latter part of that century, levee construction was undertaken for flood control and to reclaim land for farming – which created one of the most productive agricultural areas in the nation. Today, there are about 1,100 miles of levees in the delta. Their condition is a major concern to the State of California, because a failure could result in catastrophic flooding of the agricultural area and disruption of water supply to other parts of the state. The hosts discuss the dilemma of how to ensure the safety of the Sacramento-San Joaquin River Delta with Jeffrey Mount, Professor of Geology, at the University of California-Davis.
The Infrastructure Show is sponsored by Northwestern University.
Descriptions of photos at top of page, from left to right: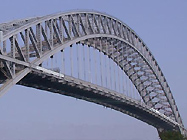 Bayonne Bridge, from Bayonne, NJ to Staten Island, NY;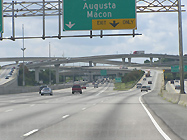 the Tom Moreland Interchange in Atlanta, GA;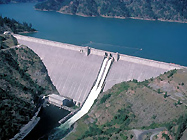 Dworshak Dam, in Clearwater County, ID;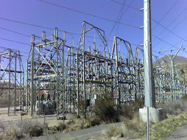 a transmission substation in Orem, UT.
All photos courtesy of Wikipedia.