The Infrastructure Show's Episodes
With Host Professor Joseph Schofer of Northwestern University.
Click on the link below the description to begin streaming the podcast. To subscribe to The Infrastructure Show podcasts or find in iTunes, see the clicks at the top of the page.

(click for larger image)
Savannah Harbor Expansion Project – extensive dredging operation will benefit Georgia and the region
Posted January 16, 2013, Length: 22:53
The Port of Savannah, GA is located on the Savannah River, about 18 miles from the Atlantic Ocean, and is operated by the Georgia Ports Authority. While the Port is the nation's fourth busiest container port, the Savannah River shipping channel is not deep enough to accommodate the supersized cargo ships developed for the enlarged Panama Canal. The Savannah Harbor Expansion Project, or SHEP, based on 12 years of planning and research by the U.S. Army Corps of Engineers, will deepen the channel, so that it can accommodate the larger ships, and thus significantly benefit Georgia and the region. The hosts discuss this important project with Curtis Foltz, Executive Director of the Georgia Ports Authority.
The Infrastructure Show is sponsored by Northwestern University.
Descriptions of photos at top of page, from left to right: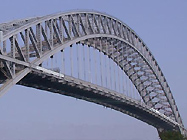 Bayonne Bridge, from Bayonne, NJ to Staten Island, NY;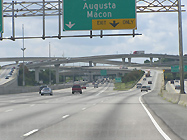 the Tom Moreland Interchange in Atlanta, GA;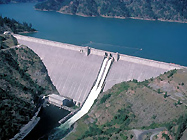 Dworshak Dam, in Clearwater County, ID;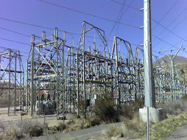 a transmission substation in Orem, UT.
All photos courtesy of Wikipedia.