The Infrastructure Show's Episodes
With Host Professor Joseph Schofer of Northwestern University.
Click on the link below the description to begin streaming the podcast. To subscribe to The Infrastructure Show podcasts or find in iTunes, see the clicks at the top of the page.

Reconstruction of the Calaveras earthfill dam in progress, showing the new spillway. Credit: Photo courtesy of San Francisco Public Utilities Commission
(click for larger image)
Securing San Francisco's Water: Rebuilding the Calaveras Dam
Posted November 27, 2017, Length: 12:00
The infrastructure that prepares and distributes potable water to our cities requires continuing monitoring and maintenance. Many facilities are old and aging, built in an era when engineering knowledge was less and materials and methods more primitive. The San Francisco Public Utilities Commission uses a widespread collection of dams, reservoirs, aqueducts and pipe to supply 2.7 million residential and business customers, and the agency is now in the midst of a $4.6 billion renewal program that includes rebuilding the 90+ year old Calaveras dam in the East Bay. In this interview we talk with Alan Johanson, Deputy Director of the San Francisco Public Utilities Commission's Water System Improvement Program (WSIP), to learn about the system and this program.
The Infrastructure Show is sponsored by Northwestern University.
Descriptions of photos at top of page, from left to right: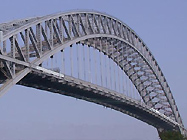 Bayonne Bridge, from Bayonne, NJ to Staten Island, NY;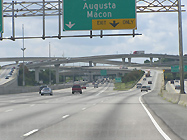 the Tom Moreland Interchange in Atlanta, GA;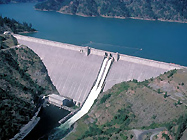 Dworshak Dam, in Clearwater County, ID;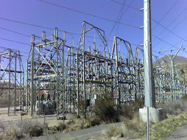 a transmission substation in Orem, UT.
All photos courtesy of Wikipedia.