The Infrastructure Show's Episodes
With Host Professor Joseph Schofer of Northwestern University.
Click on the link below the description to begin streaming the podcast. To subscribe to The Infrastructure Show podcasts or find in iTunes, see the clicks at the top of the page.

(click for larger image)
Self-Propelled Modular Transporters
Posted February 28, 2017, Length: 15:02
Big infrastructure projects often present the need to move very large objects, such as parts of chemical processing plants or even entire bridges. The capacity for moving massive components has grown to an impressive scale. In this podcast we talk with Jack Tol, Senior Sales Engineer with Mammoet, a company that provides solutions for lifting and moving large and heavy structures.
The Infrastructure Show is sponsored by Northwestern University.
Descriptions of photos at top of page, from left to right: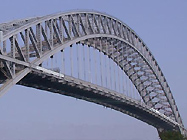 Bayonne Bridge, from Bayonne, NJ to Staten Island, NY;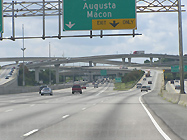 the Tom Moreland Interchange in Atlanta, GA;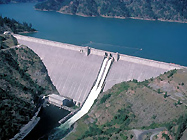 Dworshak Dam, in Clearwater County, ID;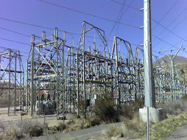 a transmission substation in Orem, UT.
All photos courtesy of Wikipedia.