The Infrastructure Show's Episodes
With Host Professor Joseph Schofer of Northwestern University.
Click on the link below the description to begin streaming the podcast. To subscribe to The Infrastructure Show podcasts or find in iTunes, see the clicks at the top of the page.

Four longitudinal pontoons and two stability pontoons under construction for the SR 520 Bridge
(click for larger image)
State Route 520 Floating Bridge in Seattle
Posted April 25, 2016, Length: 12:20
There are many floating bridges in use around the world, but the Seattle region has three large bridges of this design. The State Route 520 Bridge over Lake Washington, the Gov. Albert D. Rosellini Bridge, is the longest in the world. Heavily used and assaulted by wind and waves for more than five decades, this bridge has been replaced by a new facility. Here to tell us about this large and complex project is Julie Meredith, Washington State DOT Administrator of the SR 520 replacement program.
The Infrastructure Show is sponsored by Northwestern University.
Descriptions of photos at top of page, from left to right: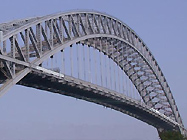 Bayonne Bridge, from Bayonne, NJ to Staten Island, NY;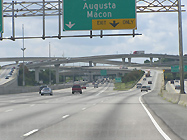 the Tom Moreland Interchange in Atlanta, GA;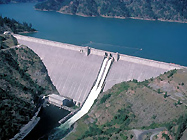 Dworshak Dam, in Clearwater County, ID;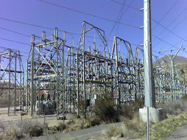 a transmission substation in Orem, UT.
All photos courtesy of Wikipedia.