The Infrastructure Show's Episodes
With Host Professor Joseph Schofer of Northwestern University.
Click on the link below the description to begin streaming the podcast. To subscribe to The Infrastructure Show podcasts or find in iTunes, see the clicks at the top of the page.

No. 3 reactor building, Source: TEPCO
(click for larger image)
The Fukushima I accident, and its implications for nuclear plant design
Posted September 28, 2011, Length: 23:56
The March 11, 2011 earthquake and resulting tsunami in Japan caused massive loss of life and property destruction on the northern coast and islands. In that same hard-hit vicinity, on the coast, is located the Fukushima I Nuclear Power Plant, which was flooded by the tsunami, and suffered a loss of backup power that led to a major emergency. A month later, on April 11, the Fukushima accident was classified as a Level 7 on the International Nuclear and Radiological Event Scale – the same level assigned to the Chernobyl accident in Russia in 1986. The hosts discuss the Fukushima I accident, and its implications for nuclear plant design, with Elmer Lewis, Professor Emeritus of Mechanical Engineering at Northwestern University. A frequent consultant to Argonne and Los Alamos National Laboratories, Dr. Lewis is author of the books Nuclear Power Reactor Safety and Fundamentals of Nuclear Reactor Physics.
The Infrastructure Show is sponsored by Northwestern University.
Descriptions of photos at top of page, from left to right: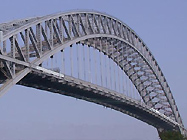 Bayonne Bridge, from Bayonne, NJ to Staten Island, NY;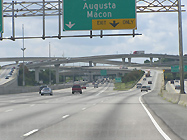 the Tom Moreland Interchange in Atlanta, GA;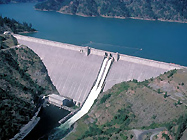 Dworshak Dam, in Clearwater County, ID;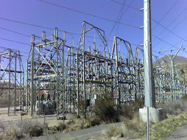 a transmission substation in Orem, UT.
All photos courtesy of Wikipedia.