The Infrastructure Show's Episodes
With Host Professor Joseph Schofer of Northwestern University.
Click on the link below the description to begin streaming the podcast. To subscribe to The Infrastructure Show podcasts or find in iTunes, see the clicks at the top of the page.

Long Island, NY community after Hurricane Sandy, courtesy of U.S. Coast Guard
(click for larger image)
The impact of rising sea levels on U.S. infrastructure
Posted December 19, 2012, Length: 24:54
According to scientists, sea levels may rise 3 to 6 feet globally during the next century due to climate change. Millions of Americans live in coastal areas that would be flooded by sea level rises of these magnitudes. There also is concern regarding surges from destructive storms like Hurricane Sandy, which caused so much damage in October 2012, particularly in New York and New Jersey. Sandy was a super storm, of a type previously referred to as "once-in-a-century", though looking ahead, some fear that such storms may become more frequent due to climate change and resulting extreme weather events. How can U.S. coastal communities deal proactively with the challenges of rising sea level and storm surges? The hosts discuss this important topic with Jessica Grannis of the Georgetown Climate Center, author of the "Sea-Level Rise Toolkit."
The Infrastructure Show is sponsored by Northwestern University.
Descriptions of photos at top of page, from left to right: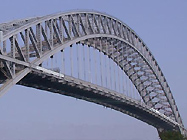 Bayonne Bridge, from Bayonne, NJ to Staten Island, NY;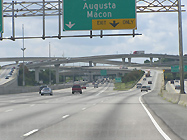 the Tom Moreland Interchange in Atlanta, GA;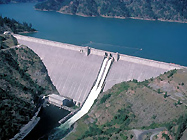 Dworshak Dam, in Clearwater County, ID;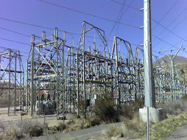 a transmission substation in Orem, UT.
All photos courtesy of Wikipedia.