The Infrastructure Show's Episodes
With Host Professor Joseph Schofer of Northwestern University.
Click on the link below the description to begin streaming the podcast. To subscribe to The Infrastructure Show podcasts or find in iTunes, see the clicks at the top of the page.

The supercrane "I Lift NY" places concrete crossbeam on tower for the New NY Bridge
(click for larger image)
The New NY Bridge
Posted May 24, 2016, Length: 17:30
The New York State Thruway Authority is replacing the 6-decades-old Gov. Malcolm Wilson Tappan Zee Bridge north of New York City. To accelerate completion of the New NY Bridge, fast-tracked environmental permitting, procurement and labor agreements were combined with design-build contracting to advance a plan discussed for more than a decade to a new bridge opening in 2018. In this podcast we talk with David Capobianco, Director of Structural Design for the Thruway Authority about the features of the bridge and the process for delivering it.
The Infrastructure Show is sponsored by Northwestern University.
Descriptions of photos at top of page, from left to right: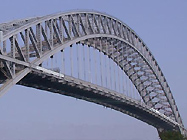 Bayonne Bridge, from Bayonne, NJ to Staten Island, NY;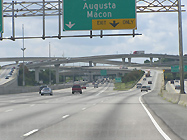 the Tom Moreland Interchange in Atlanta, GA;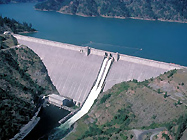 Dworshak Dam, in Clearwater County, ID;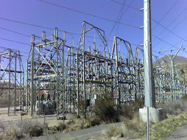 a transmission substation in Orem, UT.
All photos courtesy of Wikipedia.