The Infrastructure Show's Episodes
With Host Professor Joseph Schofer of Northwestern University.
Click on the link below the description to begin streaming the podcast. To subscribe to The Infrastructure Show podcasts or find in iTunes, see the clicks at the top of the page.

Artist's rendering of St. Croix Bridge; MnDOT
(click for larger image)
The St. Croix Crossing Project – an innovative plan that will benefit the Twin Cities area
Posted November 26, 2012, Length: 23:30
The St. Croix River, a tributary of the Mississippi River located in the states of Minnesota and Wisconsin, is crossed by the 80-year-old Stillwater Lift Bridge at Stillwater, MN, about 20 miles northeast of St. Paul. Over the years, as sprawl from the Twin Cities has increased the demand for suburban development and Stillwater has grown, the two lane lift-bridge crossing over the St. Croix has become highly congested. The decision was made to build a new bridge across the river between the two states, at a site south of Stillwater, to be called the St. Croix Bridge, beginning in 2013. It will feature a bridge design called extradosed – and will be only the second such bridge in the U.S. When the extradosed bridge is completed, the lift bridge, a historic structure, will not be torn down, but rather will be turned into a pedestrian-and-bicycle-only bridge. The hosts talk about this innovative project with Kevin Western of the Minnesota Department of Transportation, who is design engineer for the project.
The Infrastructure Show is sponsored by Northwestern University.
Descriptions of photos at top of page, from left to right: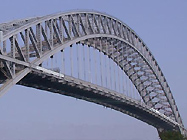 Bayonne Bridge, from Bayonne, NJ to Staten Island, NY;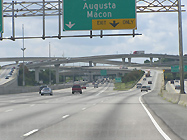 the Tom Moreland Interchange in Atlanta, GA;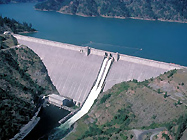 Dworshak Dam, in Clearwater County, ID;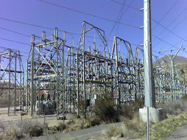 a transmission substation in Orem, UT.
All photos courtesy of Wikipedia.