The Infrastructure Show's Episodes
With Host Professor Joseph Schofer of Northwestern University.
Click on the link below the description to begin streaming the podcast. To subscribe to The Infrastructure Show podcasts or find in iTunes, see the clicks at the top of the page.

Courtesy of HistoricBridges.org
(click for larger image)
The Wells Street Bridge — a look at the upcoming rehabilitation of a historic Chicago bridge
Posted November 21, 2011, Length: 19:57
Chicago and Cook County, IL have the largest number of movable bridges in the world, a number of which are also historic. One such bridge is the Wells Street Bridge, a lift, or bascule, bridge over the Chicago River, which was built in 1922. The double-deck steel bridge, in downtown Chicago adjacent to the Merchandise Mart, carries vehicle and pedestrian traffic on the lower level and on its upper level carries the Chicago Transit Authority's Brown and Purple Line trains to and from the Chicago Loop. The bridge opens to allow taller boat traffic to pass in certain seasons of the year. In September of 2012, the Chicago Department of Transportation plans to begin a major rehabilitation of the Wells Street Bridge. The hosts discuss this interesting project with Daniel Burke, Chief Bridge Engineer for the Chicago Department of Transportation.
The Infrastructure Show is sponsored by Northwestern University.
Descriptions of photos at top of page, from left to right: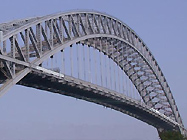 Bayonne Bridge, from Bayonne, NJ to Staten Island, NY;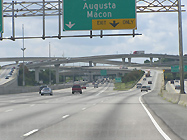 the Tom Moreland Interchange in Atlanta, GA;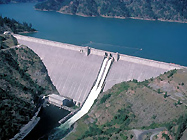 Dworshak Dam, in Clearwater County, ID;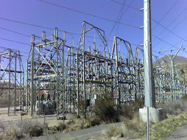 a transmission substation in Orem, UT.
All photos courtesy of Wikipedia.