The Infrastructure Show's Episodes
With Host Professor Joseph Schofer of Northwestern University.
Click on the link below the description to begin streaming the podcast. To subscribe to The Infrastructure Show podcasts or find in iTunes, see the clicks at the top of the page.

(click for larger image)
Water for Life: The Quest for Quantity, Quality, Efficiency, and Equity- Part II, Water for a dry land: New Desalination Plant for San Diego
Posted January 28, 2016, Length: 14:58
Water infrastructure issues are much in the news in the U.S. — not only in the West, where drought continues to take a high toll, but also in other parts of the country, where the water needs for municipalities, energy production, commercial interests, and agriculture intersect and sometimes conflict. In this interview, one in a series of three exploring some of the nation's water challenges, we talk with Bob Yamada, Director of Water Resources for the San Diego County Water Authority, about the mix of strategies adopted to meet the growing needs of the authority's customers, and the new Carlsbad Desalination plant. This advanced technology reverse osmosis facility was built, financed, and will be operated through a public-private partnership under a water purchase agreement to serve the region for the next three decades.
The Infrastructure Show is sponsored by Northwestern University.
Descriptions of photos at top of page, from left to right: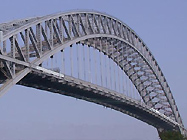 Bayonne Bridge, from Bayonne, NJ to Staten Island, NY;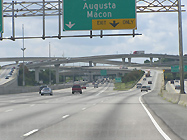 the Tom Moreland Interchange in Atlanta, GA;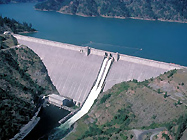 Dworshak Dam, in Clearwater County, ID;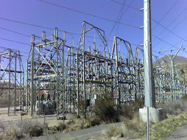 a transmission substation in Orem, UT.
All photos courtesy of Wikipedia.