The Infrastructure Show's Episodes
With Host Professor Joseph Schofer of Northwestern University.
Click on the link below the description to begin streaming the podcast. To subscribe to The Infrastructure Show podcasts or find in iTunes, see the clicks at the top of the page.

(click for larger image)
Water for Life: The Quest for Quantity, Quality, Efficiency, and Equity- Part III, Water for a dry land: The impact of agricultural chemicals on municipal water quality
Posted February 24, 2016, Length: 15:15
Water needs for municipalities and agriculture can intersect and sometimes conflict. In this third interview in the series exploring some of the nation's water challenges, we talk with Bill Stowe, General Manager of the Des Moines, Iowa, Water Works, who describes the problems that drainage of chemicals, principally nitrates, from nearby farms affects the quality of input waters and the treatment technologies and costs of potable water. Driven in part by substantial advances in agricultural productivity, solutions may lie in adjustments in farming technologies and regulatory actions that address the externalities of large-scale agriculture.
The Infrastructure Show is sponsored by Northwestern University.
Descriptions of photos at top of page, from left to right: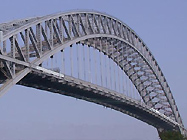 Bayonne Bridge, from Bayonne, NJ to Staten Island, NY;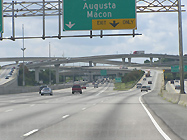 the Tom Moreland Interchange in Atlanta, GA;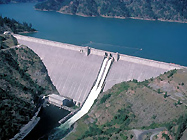 Dworshak Dam, in Clearwater County, ID;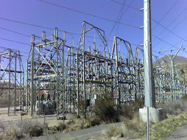 a transmission substation in Orem, UT.
All photos courtesy of Wikipedia.