The Infrastructure Show's Episodes
With Host Professor Joseph Schofer of Northwestern University.
Click on the link below the description to begin streaming the podcast. To subscribe to The Infrastructure Show podcasts or find in iTunes, see the clicks at the top of the page.

Credit: Photo courtesy of the Port of Houston Authority
(click for larger image)
What Panama Canal Expansion Means to the U.S. – Part II
Posted July 24, 2015, Length: 15:05
The Port of Houston is the principal U.S. port on the Gulf of Mexico, handling petrochemical, coal, and grain exports, and inbound consumer products. Many of the 4,000 or so ships that traverse the Houston ship channel annually transit the Panama Canal on their journeys. The expanded Canal, set to open in the winter of 2016, will support Neo-Panamax ships with as much as three times the capacity of current Panamax ships, as well as very large LNG carriers. Is the Port of Houston ready for these new ships? What public and private investments have been made and are planned to assure that Houston, and the U.S., are competitive in international trade? Roger Guenther, Executive Director of the Port of Houston Authority talks about Houston's progress and plans with host Joseph Schofer.
The Infrastructure Show is sponsored by Northwestern University.
Descriptions of photos at top of page, from left to right: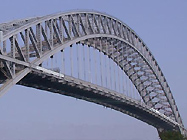 Bayonne Bridge, from Bayonne, NJ to Staten Island, NY;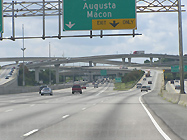 the Tom Moreland Interchange in Atlanta, GA;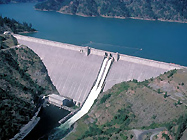 Dworshak Dam, in Clearwater County, ID;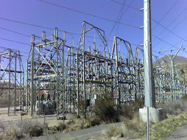 a transmission substation in Orem, UT.
All photos courtesy of Wikipedia.